Mushroom risotto
[vegetarian] Simple and hearty, just needs frequent attention.
I originally learned this recipe from a Sur la Table class. I've modified it to suit my tastes. I like it because... I love rice, and I love wet foods.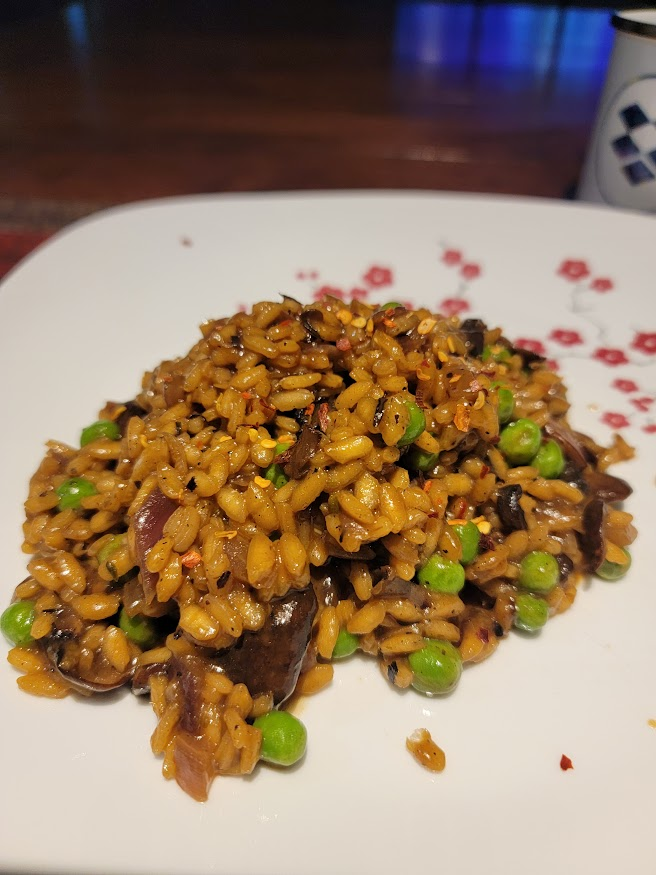 Ingredients
Serves 2
~1.5 handfuls of your favorite mushroom, sliced
3/4ths cups of arborio rice, uncooked
4-6 cups of your favorite broth (vegetable, chicken, beef, etc.)
1/4th to 1/2 cups chopped onion or shallots
2-3 cloves garlic, minced
A handful of peas (optional)
1-2 carrots, chopped (optional)
Chili flakes, to taste (optional)
Salt
Pepper
Parsley for garnish (optional)
Small pinch of saffron
1/4th cup grated parmesan cheese
1-2 tbs butter or margarine
1-3 tbs cooking oil
1/3rd cup of white wine. Most people say to only use dry, but I've used sweet, including mirin, and it's fine. Substitute with water if you prefer.
Directions
Heat a medium-sized pot with 1-2 tbs of oil at medium-low heat.
Add mushrooms, tossing to cover them in oil.
Add a pinch of salt.
Cover the pot for 3-5 minutes, until the mushrooms' water seeps out.
Uncover the pot and continue sauteing for 2-3 minutes.
Add onion or shallots, sauteeing for 3-5 minutes.
Add a pinch of salt.
Optionally add carrot, tossing to cover in oil.
Add garlic, sauteeing for 1 minute.
In another pot, heat your broth. (Or, if using boullion, heat a kettle of water.)
Add rice and saffron, tossing to cover in oil.
Optionally add chili flakes.
Saute for another 2 minutes.
Deglaze with water or wine. Saute another 1-2 minutes until liquid evaporates.
Pour about 1/2 to a whole cup of broth at a time, stirring all ingredients together. The rice will slowly absorb the broth. Pour in more broth as the existing broth gets absorbed. In my experience, you don't need to constantly stir. Stirring a few times every minute or so seems to be fine. Just make sure all the rice is covered by broth and is not sticking to the bottom or corners of the pot.
Continue to do this until rice is to your prefer softness level. For me it usually takes about 20 minutes.
Remove from heat.
Add butter or margarine and parmesan.
Optionally add pepper and more chili flakes to taste.
Optionally add peas. It will quickly cook and begin tocool the risotto a little bit so it's ready to eat at a safer temperature.
Sample risotto and add salt, to taste.
Optionally garnish with parsley.
Serve, optionally with more pepper, chili flakes, and/or parmesan to top.