Mushroom and Black Lentil Stew
[vegan] A creamy, comforting dish inspired by the Rainbow Plant Life Youtube series recipe.
All credit to Rainbow Plant Life, one of my favorite Youtube cooking channels. Below is her recipe with some of my modifications.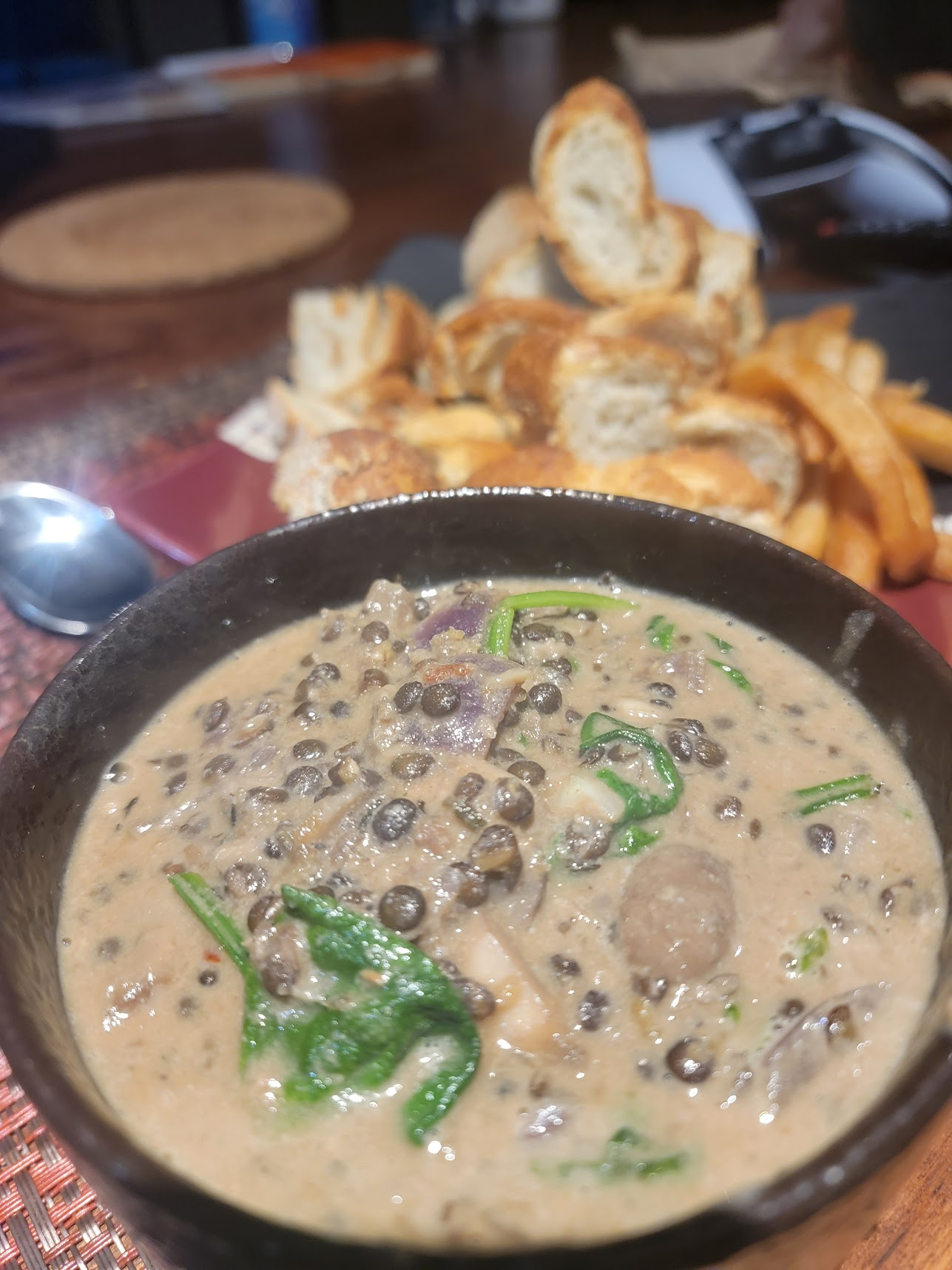 Ingredients
Serves 4-6
Lentils
1 cup beluga black lentils, rinsed and clean of stones
2 cups broth
A shake of dry thyme, or 6 sprigs fresh thyme
A shake of dry rosemary, or 1 sprig fresh rosemary
bay leaf
A pinch of salt
8 whole black peppercorns
Mushroom Stew
A drizzle or so of cooking oil
1 red onion, diced
7 cloves garlic, minced or diced
4oz misc. mushrooms (shiitake, oyster, etc.), sliced
16oz crimini mushrooms, sliced
1/2 tbs dry thyme, or 1 tbs fresh thyme leaves
Spice to taste, e.g., at least 1/2 tsp crushed red pepper flakes, or 1/2 jalapeño pepper, minced
1/4 cup white wine
1 1/2 tbs miso paste
3 tbs tahini
1 1/2 tbs soy sauce
2 cups low-sodium broth
1 16 oz can coconut milk
1 medium-sized bag of kale or spinach
A generous squeeze of citrus juice, e.g., lime, lemon
Recommended Starches
Toasted baguette or other rustic bread
Rice
Quinoa
Directions
Heat large pot with lentils and broth.
Add all spices for lentils.
Bring to a boil.
Reduce heat to medium.
Add a pinch of salt.
Let simmer for 20-25 minutes until lentils are just tender.
In the meantime, finish prep of mushroom stew vegetables if needed.
Once lentils are tender, transfer them to a separate bowl, draining if needed.
Reheat pot with cooking oil for mushroom stew on medium to medium high.
Once oil is shimmering, add onions.
Saute for 5-7 minutes until onions are lightly browned.
Add sliced mushrooms and a generous pinch of salt and pepper.
Add all other spices.
Stir with onions and oil until well-incorporated.
Let sit for 3-8 minutes until water has seeped out and evaporated, and mushrooms are browning.
Deglaze the bottom of the pot with wine, scraping up brown bits as needed.
Let wine almost fully evaporate.
Add miso paste, tahini, and soy sauce.
Stir until well-combined.
Pour in cooked and drained lentils.
Add 2 cups vegetable broth and coconut milk.
Stir well and bring stew to a boil.
Blend a few parts of the stew with an immersion blender to your liking.
Turn off heat.
Add kale or spinach.
Mix well.
Mix in citrus juice.
Let cool to a comfortable eating temperature before serving with your favorite starch.