Kyoto Eats
For 2023 I'm in Kyoto for a little over a month, so I hope to try many different restaurants and document them here.
Last updated: 03/26/2023
Table of Contents
Favorites
Shijo-Karasuma
Kanji: ぞろんぱ 室町仏光寺店. Teppanyaki restaurant that serves grilled skewers, sashimi, and a lot of izakaya food (Japanese and Western). A three-skewer omakase for 1,500 yen is recommended if you don't know what to order, though rest assured you'll want to get more after that.
I ordered that omakase (which included a wagyu pork, エビ玉・shrimp with egg, and , and something else...), along with a highball, a salted grilled fish skewer, カニ玉・kanitama skewer or crab with egg, a fish and vegetable terrine special, and a tuna sashimi set, which set me back 5,500 yen or $40.30 USD. It was awesome. I'd like to go back sometime to try more items.
Opens at 5:30 p.m. for dinner. Bar seating is available if you don't have a reservation or a big party. They accept credit card. Not sure if there's an English menu, but there is an English version of their website, so I wouldn't be surprised.
Back to top
Shijo-Karasuma
Small restaurant run by a couple. They serve tempura a la carte along with set meals or kaiseki. I had the ume set meal with additions (since I originally wanted the take meal but it would take too much time). It included some of the freshest sashimi and tempura ingredients I've ever had, along with a delicate assortment of pickles and a very flavorful citrus ice cream dessert.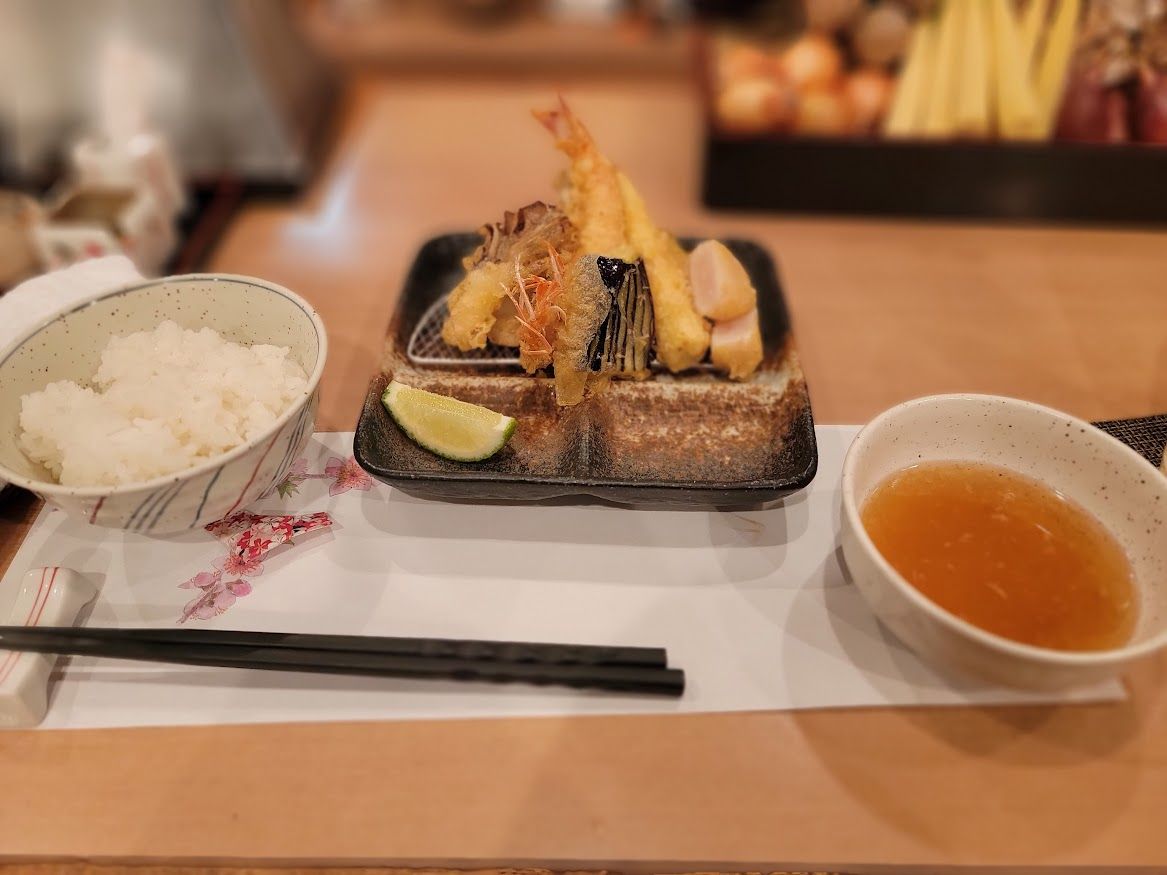 Open for lunch and dinner, closes at 9 p.m. as of 02/25 (Google says 10:30 p.m.). English menu available. Get there early enough for them to make kaiseki if that's your thing. They might accept credit card but not sure. Can be booked full on weekends, maybe also weekdays (?) but tends to free up at 8 p.m. (which makes kaiseki without a reservation difficult).
Back to top
Ikkakuji
Shijo-Shinmachi
Teppanyaki izakaya restaurant. They'll ask if you have a reservation first. I didn't and was fine as a solo diner; I think couples have a decent chance too as walk-ins after 7:30 or 8 p.m. on weekdays. I had okonomiyaki and a sizeable and tasty salad (probably meant to be shared). They also have betayaki which is a Kyoto-specific kind of okonomiyaki.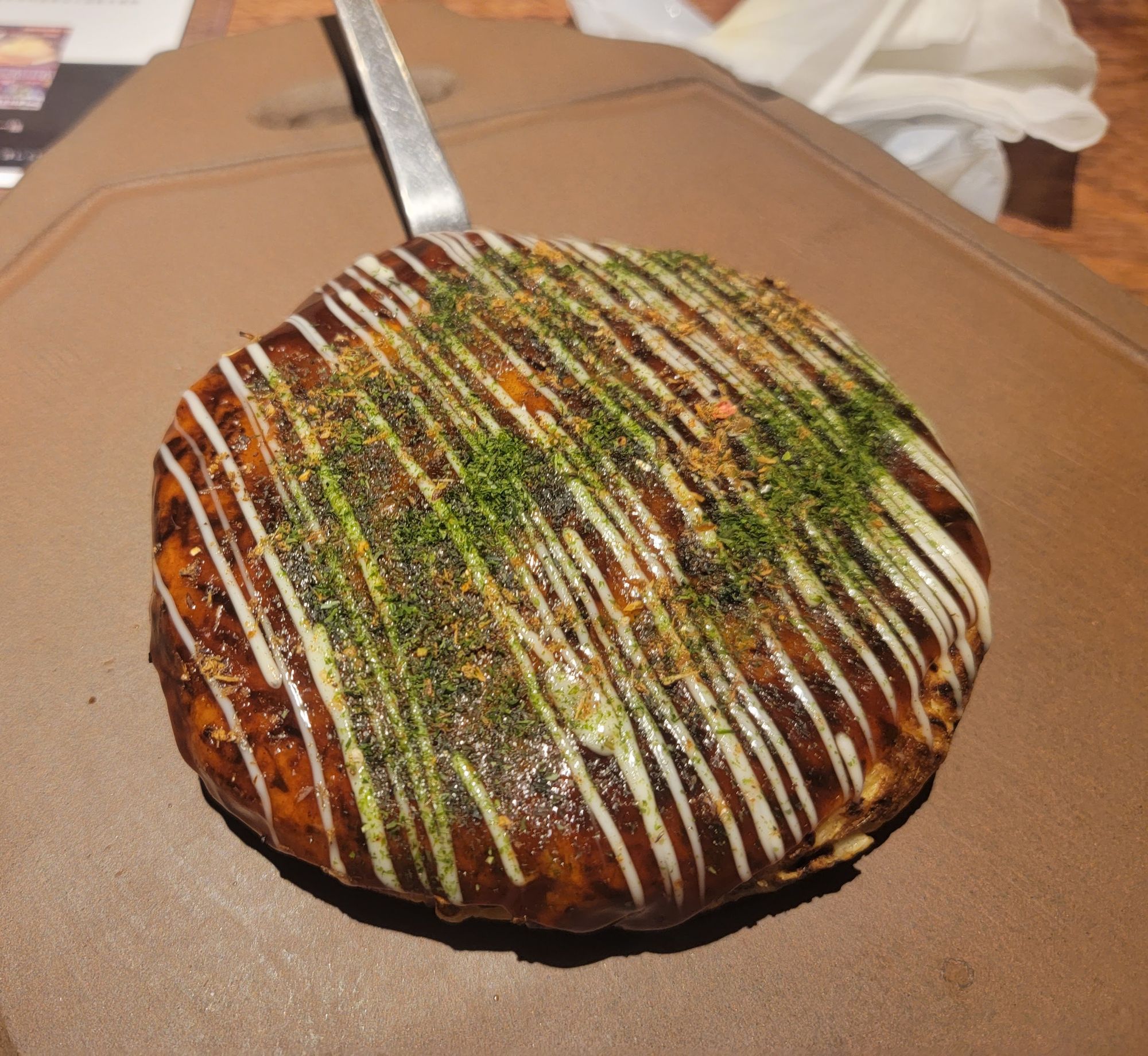 English menu is probably available. Credit card accepted. Open late for dinner.
Back to top
Near Kyoto Imperial Palace
Crepe and galette restaurant with hot/cold tea and coffee.  Lunch sets come with a savory galette, sweet crepe, and drink. I ordered the コンプレ (complex or compre), option C, which had potato, avocado, tomato, and egg galette; along with a honey-lemon crepe dessert and iced beaurberry beach tea. Delicious, would come back to try other options.
Open for late breakfast and lunch. Cash only. Seems to be popular with Japanese and foreigners alike. Acceptable to stay awhile and do work, etc. if not crowded. English menu available.
Karasuma-Oike
Small ramen restaurant with 2 floors. They specialize in oyster-based broth and chashu (braised pork belly). There's usually a line (hopefully small) outside. A staff person will eventually hand you a menu when you're close to the front so you can figure out what you want. They'll come back to take your order, and then when enough seats for your party become available, you'll be welcomed inside and told to sit downstairs or upstairs. The oyster-based broth was amazing, as well as their shioramen and madare ramen. Happy they overall provide light, thin broth. Granted, I was in desperate want of vegetables afterward.
English menu available. Cash only. Open for lunch and dinner. Reservations not accepted, often a small line. Good when other restaurants with reservations are all full.
Back to top
Kuruyamacho
This a restaurant part of the Ace Hotel in Kyoto, though you don't need to be a hotel guest to eat there (and I wonder if you get a discount!). I made an online reservation for two at 6:30 p.m. on a Sunday, though noticed there were still openings day-of Saturday evening. My partner and I ordered a la carte off the tacos, ceviche, and appetizers. For tacos, we had four orders, which came with two tacos each: chicken panucho, beef birria, cochinite pibil, cauliflower tacos. We also ordered the sweet ayu antojito fish as an appetizer, the red clam ceviche with tostada, and churros for dessert. For cocktails we had the seasonal Sakura Royal and Fire & Blossom, as well as the Kyoto Smokey Mezcalita and one of the limited supply of housemade tequila umeshu.
We loved everything! I mean everything. On top of the hip, sleek environment and music, the restaurant and its food reminded us of the amazing, diverse foodie food we can get in Washington, DC, but at half the price of 17,000円 | $130 USD.
Ask for your check when done and pay at your table. Credit card accepted. English menu available. Staff speak decent Englsh – probably helps that they are part of a hotel restaurant with many international visitors.
MOS Burger
Gion, Nijo Station, and various places throughout Japan
If you want good fast food that originated in Japan, I recommend MOS Burger! The service, like most other places in Japan, is friendly, helpful, and patient; many Redditors have noted that they tend to employ people of many ages and abilities, which is also nice.
I have had the shrimp cutlet, fish filet, and yakiniku rice burger with french fries and a drink (coke, coffee) as a set. Each of them has been really good for the price. The yakiniku rice burger did fall apart towards the end, and felt like a smidge too much rice to yakiniku, but it was still tasty. That said, my favorites so far have been the fish filet and shrimp cutlet (in that order). The fries have always been fried well – thick and crispy, with a warm and soft, moist inside.
English menu available, credit card accepted. Pay at the counter, receive a number to take to your table, then bring your tray to a designated area when you're done.
Back to top
Shijo-Karasuma
I came here on a weeknight shortly after it opened at 5:30 p.m. It seemed really low-key. I was the only customer for a little while. The waitress was quite friendly to me, so that added to my positive experience.
I had a delicious and delightfully filling caesar salad, along with a smaller portion of oil-dressed pasta. Price was reasonable, and I was happy to be filling up on light, healthy food. There are other Italian options available here as well.
There might be an English menu available. Credit card accepted, I believe...
Nishinotoin Bukkoji
If you're craving Neapolitan-ish pizza and Western carbs in a cozy, casual setting without any needed reservations, this one's good, though the prices are little higher compared to other casual restaurants in the area. The owner is Japanese and speaks Italian (!) and English and is quite friendly. He also employs at least one other foreigner I noticed which is the first and (so far) only time I've seen an (at least obvious) foreigner employed in a service position in Japan, so that's cool.
I had their specialty pizza topped with prosciutto ham, along with coke and an arancino risotto appetizer. That appetizer was probably meant for at least two people to share... so I struggled to finish my pizza, but I managed to get through the core part without eating all the crust, at least.
English menu available. Credit card accepted. Staff speak English. Open late.
Good
Shijo-Karasuma
I came here shortly after it opened at 11 a.m. on a weekday. I picked the tempura kitsune (tofu) udon set for 1,100 yen or about $8 USD. Like so many restaurants here, the food came out in less than 5 minutes. It was a very comforting meal with high value for the price. I got refillable complimentary tea, 5 pieces or so of vegetable and seafood tempura, a small dish of pickled vegetables, a generous (too generous) bowl of rice,and a nice bowl of udon with tofu.
Menus also available in English and Chinese. Probably cash only. Open for lunch and dinner.
Arashiyama
We picked this restaurant since it seemed decent and, at the time (11 a.m. on a rainy Sunday), didn't have a line when we were hungry and could use a walking break after touring the bamboo forest. They serve various kinds of udon with fresh, handmade noodles; as well as tempura. My partner ordered a Kyoto specialty called the yuba (bean curd skins) tofu udon set, and I ordered a gyuniku (beef) udon with tempura mori awase (assorted tempura). All our food came fast and tasted good. The tempura was fried really well, but admittedly felt a bit heavy after a while. The noodles were chewy and soft. The broth was light yet flavorful. I especially liked my partner's yuba pieces. The udon bowls are big, though I think that's the standard size in Japan compared to the smaller ones in the U.S.
By the time we finished at around 12 p.m., there was a sizeable line outside. I wouldn't go out of my way for this restaurant if there are other ones without a wait, but if you luck out with little to no wait and are hungry, I'd consider this a solid choice.
English menu is available. Might be cash only, but not sure.
Back to top
Arashiyama
Yes, you would mostly go here for the cuteness, and bonus points if you're already a dedicated Rilakkuma fan. I've seen a few themed cafes in my short time in Japan. I think the Rilakkuma Cafe is one of the better ones in terms of theming and tastiness. It is located on the second floor of the Rilakkuma shop in Arashiyama – you go up to a machine, indicate your party size, and then a ticket with your number prints out. You'll know it's your turn when your number is called or is displayed downstairs on a screen – conveniently by all the shop items you could buy while waiting for your table...
The first time I went here in late February on a snowy weekday at lunchtime, and I was lucky there was no line. I ordered the Korilakkuma Duck Tsukemen with a Rilakkuma yuzu soda. Both were yummy, filling, and most of all: adorable!
The second time I went was in late March on a rainy Sunday, just after opening at 10:30 a.m. I went to get a ticket number for my partner and me, and it said the expected wait was 35 minutes from 10:43 a.m. We shopped around downstairs until a bit past 11 a.m., then checked our status again – the expected wait only went down by 4 minutes! We were both hungry and didn't want to wait much longer, so we abandoned the cafe in search of something else. I was glad I could eat there before solo, but didn't think it was worth the wait a second time, and my partner isn't as big of a Rilakkuma fan as me.
We did, however, get a Korilakkuma strawberry crepe downstairs after lunch elsewhere. For 810円, it was worth it again for the super cuteness, though it wasn't especially tasty (it was fine).
English menu might be available (?). I think credit cards are accepted.
Back to top
Nana's Green Tea
Shijo-Karasuma, and various places throughout Japan
I want to like Nana's Green Tea more because the pictures of their food look so good. I've had a matcha parfait, matcha latte, umeboshi udon, and black sesame anmitsu on separate occasions. I've really liked their matcha products, but the other two non-matcha things were just okay. Perhaps I should stick to their specialty of matcha?
Nana's Green Tea is a restaurant where you pay at the register, receive a number to take to your table, your food is delivered to you, and then you clean up your tray by putting it in a designated area when you are done. They accept credit cards and have an English menu.
Back to top
This restaurant appealed to me compared to others in the area because it had large walled windows where you could see inside and note that (at the time) it wasn't too crowded and seemed inviting. I don't remember what I had here at the moment (will update when I do), but I remember it was satisfying.
Italian-Japanese food. Counter and table seating. Don't remember if credit was accepted. Don't know if English menu available.
Okay
Wajoryomen Sugari
Karasuma-Shijo
A small ramen restaurant hidden in an alley. Hipster vibes. Enter into a narrow hallway where there may be a line that leads to a machine where you place your order. After that you exit the hallway into a hidden garden with benches where you wait to be called, if the restaurant inside is full. They specialize in a somewhat thick pork-and-fish-based broth. Their meats include pork and beef. They have a choice between regular ramen and yuzu noodles, as well as tsukemen. There are additional spices hidden in the drawer below your section of the shared table.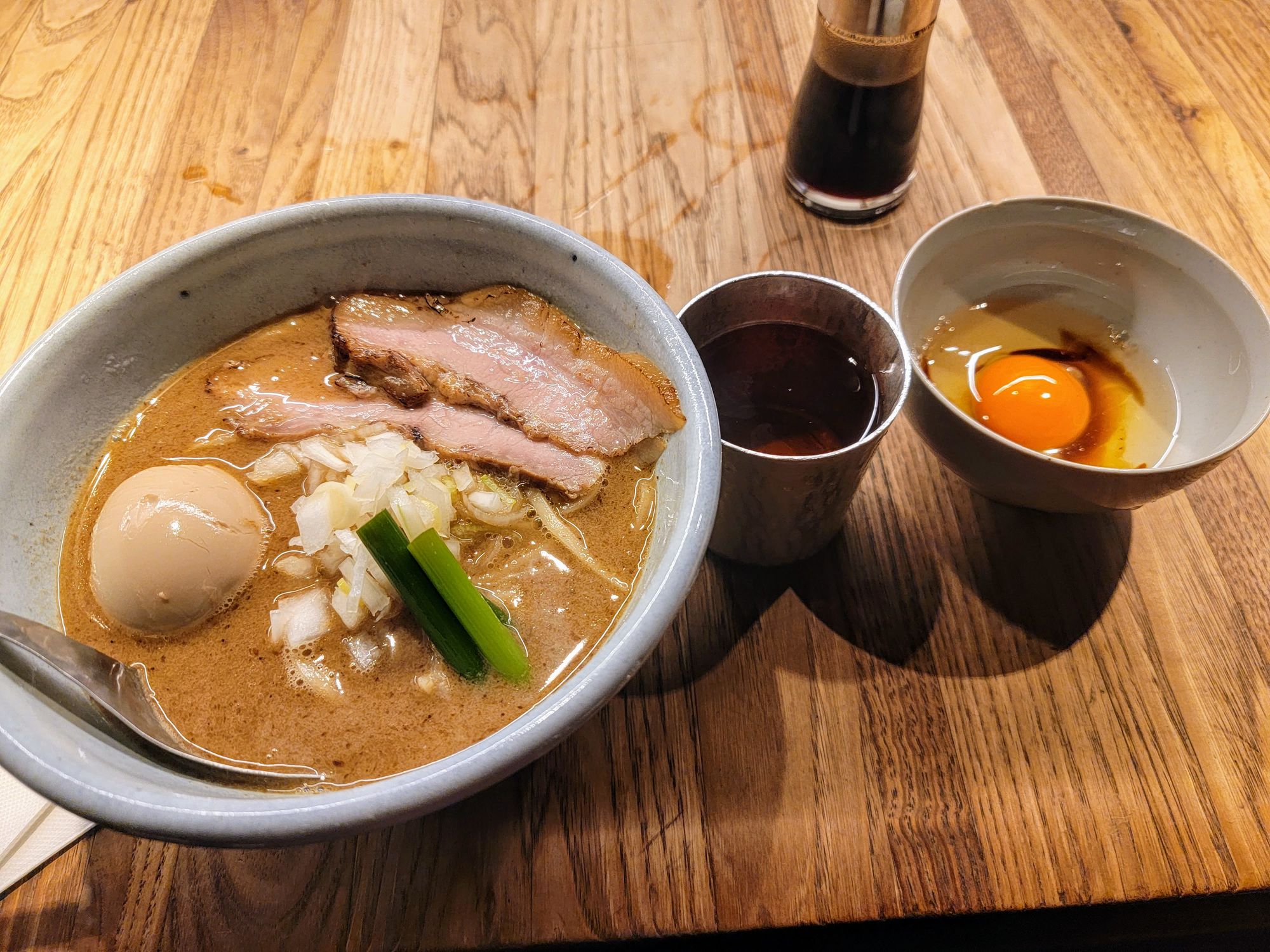 It is very popular, but I unfortunately didn't think the broth was for me. I craved vegetables afterward; there were a couple pieces of green beans (?) and maybe onion in the ramen, with the rest being carbs or meat. I liked the yuzu noodles. The best part of my meal was the raw egg side I had with soy sauce. Given my lackluster impressions, I was glad I only had to wait about 10 or 15 minutes to be let inside; many reviewers claimed to have waited 30 minutes to 2 hours???
Did I order the wrong thing? If I'm struggling to find something to eat, and the line here isn't long again, I may try the beef intestine if it's better; but I fear the broth may be the same, so...
Open for lunch and dinner. Not sure if credit card is accepted. QR code and cash payments are for sure.
Back to top
Near Kitano Tenmangu
Indian restaurant serving various curries, naan, rice, salad, and lassi. There is even a 学生・gakusei (student) discounted meal.
This is highly rated on Google but I thought it was just fine. I got the double curry rice, level ⅘ hot, with butter chicken curry and today's special curry which I believe was mutton. The heat was good, the flavor was good, but I've just had better in the U.S. with added variety. I also don't think they used basmati; instead it was jasmine rice. The meal also came was a hot, savory soup and green salad with a curry dressing. The soup was probably the favorite part of my meal
English menu available. Takeout is an option. Pay at the cashier when done eating. Open all day starting at lunch time. Past reviews said credit card was accepted, but that was not the case for me. QR code payment is though.
Back to top
Kanji: 錦市場
This is not a single venue but refers to a strip of businesses under a shared rooftop, named as such.
Granted, I only had a few things here: a serving of sake, grilled scallop with sea urchin, and a soft wet rice cracker (at two different venues). Maybe it's unfair of me to judge the entire market base off that experience. However, having wandered around enough in Kyoto to get a sense of prices, I could quickly tell that most food items here are overpriced for the quality. It makes sense: it's a very popular tourist attraction, and the atmosphere is kinda fun. However, I personally would rather spend my money (many times less money!) at full-blown restaurants dedicated to specific food specialties, and I've come to like the atmosphere at proper izakaya better.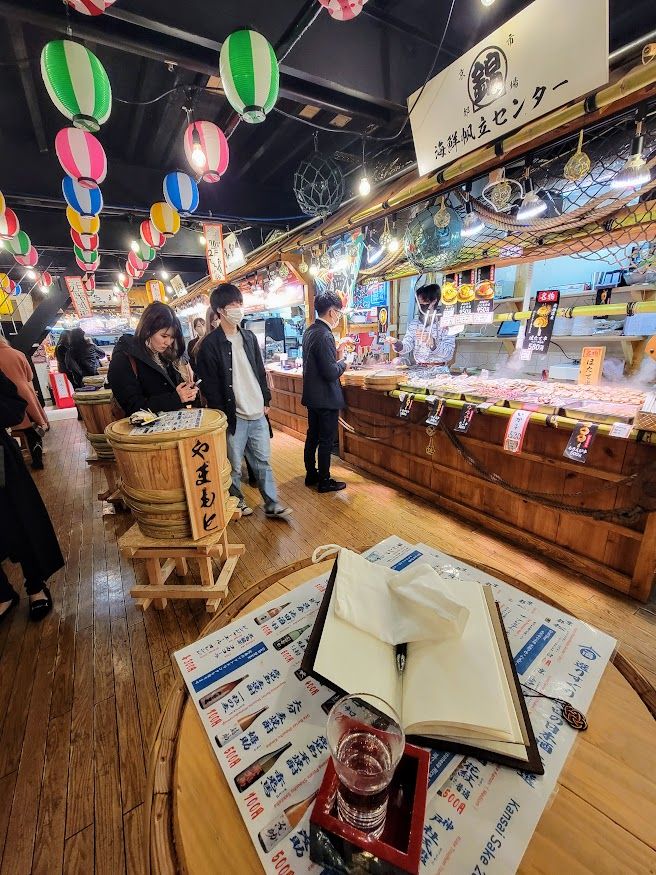 There are at least a few gems of sweets and souvenir stores, though.
In addition, at the end of Nishiki Market is Temari, a large strip of department stores, restaurants, and hidden temples and shrines. It was worth visiting the area just to wander around, people watch, window shop, and collect goshuin from the religious sites.
Back to top
Shijo-Karasuma, and various parts of Japan
Matsuya is a fast food gyudon / other Japanese comfort foods chain restaurant where you order from an electronic machine, receive a ticket number, pick up  your food from a counter when your number is called, eat, serve your own water or tea, and then bring your tray back to the counter when done. Compare to Sukiya or Yatsuya. It's really cheap and fast, and it's often open late. The one near my homebase in Kyoto was open until midnight, and one I saw in Morioka was open from 3 p.m. to 5 a.m. (!). So, only good if you are up unsually late for some reason, as I often was, and have no other option or little time.
I had Matsuya my first weeknight in Kyoto – I ordered a gyudon meal set with miso soup, pickles, salad, and rice for 580円。It was quite good for the money and time of night I ordered it (11:15 p.m.). I was taken back to my study abroad days, when I would eat at similar places because I wanted to save the little money I had for cheap, cute Japanese clothes...
I had Matsuya again on another late weeknight. This time I ordered a hamburger steak meal set for 760円. Like before, it was a ton of food for so little money. But I was honestly disgusted by it! I had a difficult time finishing the hamburger steak – something about the sauce and maybe also the meat seemed off. I still enjoyed the side dishes, at least. I was so turned off by that experience that I vowed never to eat there again unless in an emergency. Also, funnily, my (female) friend in Japan joked that she would feel weird eating there at night because it would often only be other men in the restaurant – which I realized was true for me as well, except one time when another woman was at least getting takeout.
Back to top
See the rest of my posts about Japan 2023.
Shijo-Karasuma
PaPePo is a small donut and coffee stand near Shijo station. I passed by it every day when I stayed in that area for a month, and I was always curious about those creme brulee donuts sitting there on the counter...
One day, when I was neither there too early before opening nor too late after closing, I finally got myself a creme brulee donut... and I was disappointed. It was pre-made, wrapped in plastic and cold perhaps from sitting outside in the early March air all day. Past the temperature, it just tasted like a too-sweet dessert, at least for me. Oh well, at least I finally got to feed my curiosity – and I imagine the donut would taste a little better with coffee.