Japan: Day 27
Experiencing 9 attractions at the breathtakingly beautiful DisneySea theme park.
I woke up before 9 a.m. after less than a handful of sleep. I went downstairs to have probably the worst hotel breakfast I had ever had in Japan, but it did its job in at least filling me with calories and some nutrients. I would need them – I had a big day of theme parking, once again! And in any case, other options were especially hard to come by that early in the morning and in that particular area.
Steps taken: 19,331
Money spent: 82,666円 | $611.73 USD

Hotel (2 nights): 50,970円 | $381.06
Disneysea ticket: 8706円 | $65.09
Disney priority access tickets (total): 7,300円 | $54.58 USD
Table of contents
Getting to DisneySea
After my lackluster breakfast, I took a ~10 minute walk from my hotel to the entrance of Disneysea in lovely, warm, sunny weather. The security entrance had some decent lines, but I got through them pretty quickly. While I was waiting, I downloaded the Disney Tokyo Resort app on my phone to look at the map and Priority Access tickets available for the day.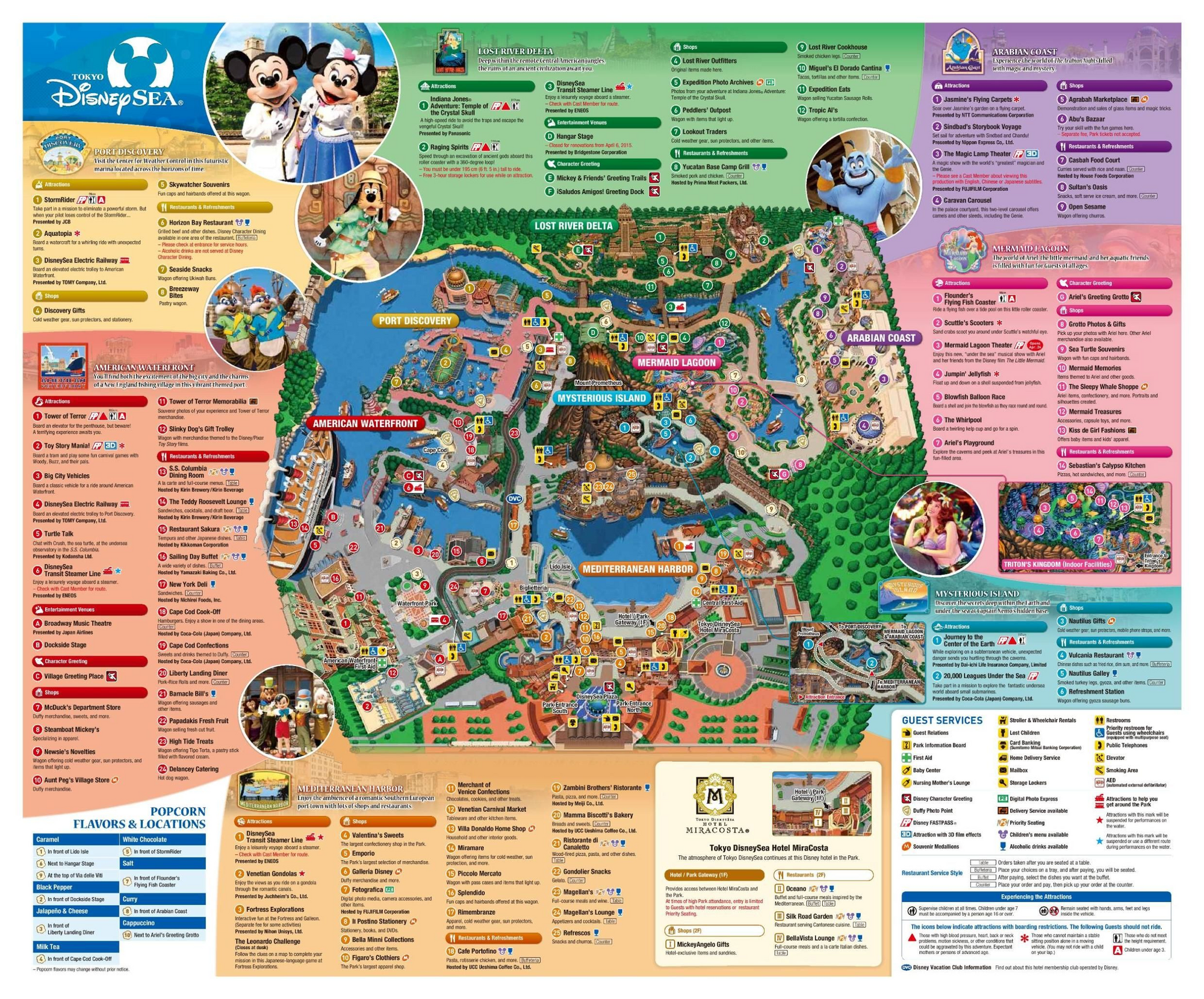 Setting up Priority Access
I had learned about them on the Internet and gathered that they were a more affordable and straightforward, a la carte version of the USJ Express Pass (Day 24). However, I realized I could only access this feature on the app if I scanned the QR code of my park ticket. There I was in this conundrum: how do I scan a QR code from the same device (from my phone, to my phone)? Pretty easy if I had a companion with me with another smartphone, but I was running solo. Ugh! And no, there wasn't a way to upload a QR code picture; it had to be scanned as a new photo from the phone's camera app.
Then, I quickly realized I could use my point-and-shoot camera that has an electronic preview screen!
I was officially inside the park at 9:50 a.m. For the Priority Access, since I could only use the QR code of a park ticket already activated for the day, I waited until I was inside to try this trick. So, first I took a picture--with my point-and-shoot camera--of my QR code--displayed on my phone. Then I reopened the Tokyo Disney Resort app on my phone and scanned the QR code that was now displayed on my point-and-shoot camera. Success!
Back to top
Journey to the Center of the Earth
Estimated wait: 120 minutes
With priority access: <1 minute wait
The ride I was most interested in was Journey to the Center of the Earth. I saw that there was a priority access slot available for 1,300円 between 10:25 and 11:25 a.m., so I snatched that. I took a leisurely walk from the entrance to the Journey ride, marveling at the gorgeous waters in the middle of the park that connected to all other major areas. Closer to the ride itself was a large volcano with intriguing old-time nautical theming around the 20,000 Leagues Under the Sea ride nearby. This area was called Mysterious Island.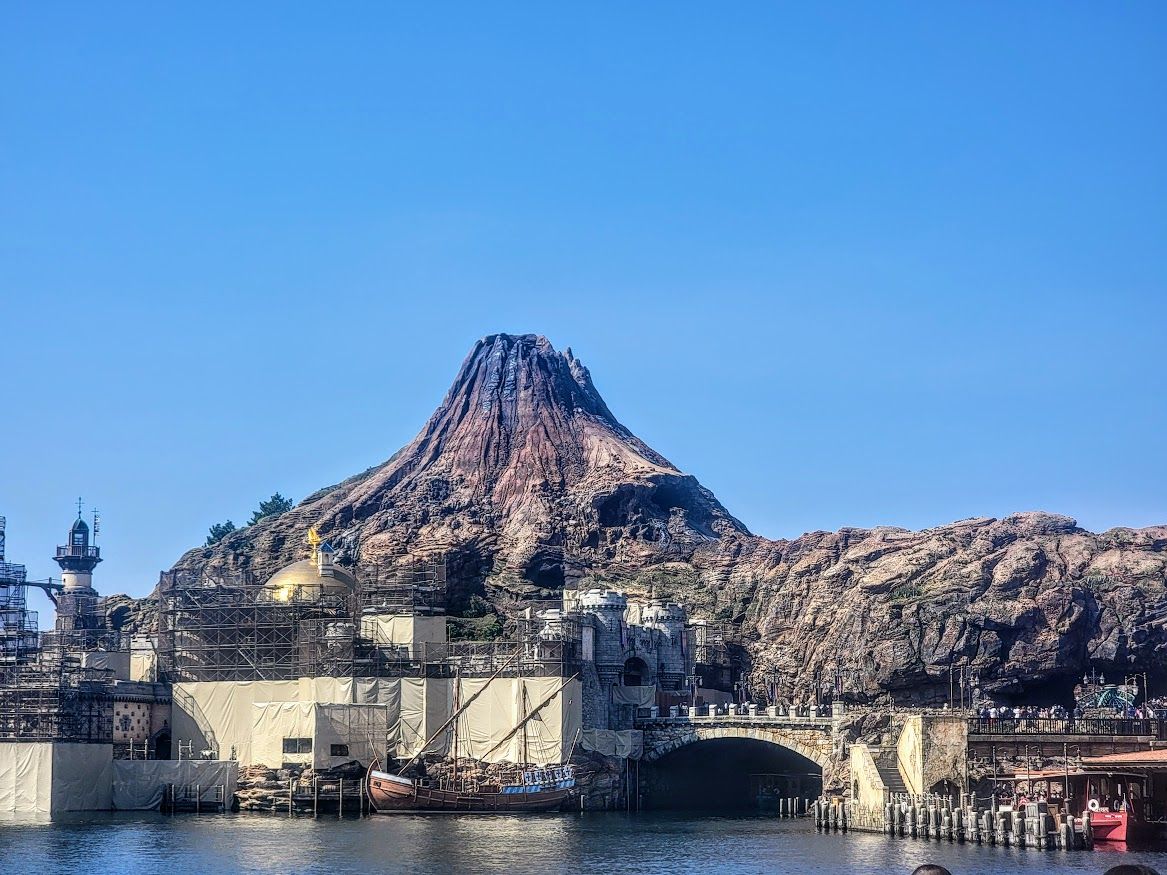 The normal queue line was already overwhelmingly large. I was thankful to have acquired that priority access ticket – I got onto the first part of the ride immediately after showing the ticket.
The first part of the ride was an elevator that simulated going much deeper into the center of the earth, with spherical windows looking into (if I recall) deep dark waters and eery sound and lighting effects. I was already excited. The second, main part of the ride put me and others on a trolley-like car where we could keep our bags with us safely. It shot out from the docking area, which was underground, and wound us through a series of caves that displayed fantastical creatures and plants that I could only assume were from the titular book. It was so cool, and frankly a bit scary! I think this, my first ride, was my favorite ride of the whole day.
Back to top
20,000 Leagues Under the Sea
Estimated wait: 30 minutes
Actual wait: ~30 minutes
Pumped after my first awesome ride, I made my way to the next one closest to me: 20,000 Leagues Under the Sea, since the Disney app said the estimated wait was about 30 minutes and there was no priority access ticket available. The line looked long, but sure enough, it moved steadily, and I was on the ride in about a half hour. It wasn't as thrilling as Journey, but it was still really cool: a small group and I shared a submarine pod that took us deep under a simulated sea, where we peered into a world of mysterious sea creatures and forgotten remains of human exploration long ago.
Back to top
Snack break
After two neat rides, I had some time to pass until a lunch reservation I made at this recommended restaurant called Magellan's at 1 p.m. I wandered around the rest of the Mysterious Island area and then meandered to other parts of the park, eventually finding myself in the Arabian Coast. I was hungry but didn't want to eat too much or wait too long in a line for something like oddly-flavored popcorn. I eventually found a food shop that had churros and ice cream (!) and several lines, so I was hopeful this one would be pretty efficient in moving customers along. I was right, and I landed myself a decent churro-and-mango sundae ice cream combo for about 850円.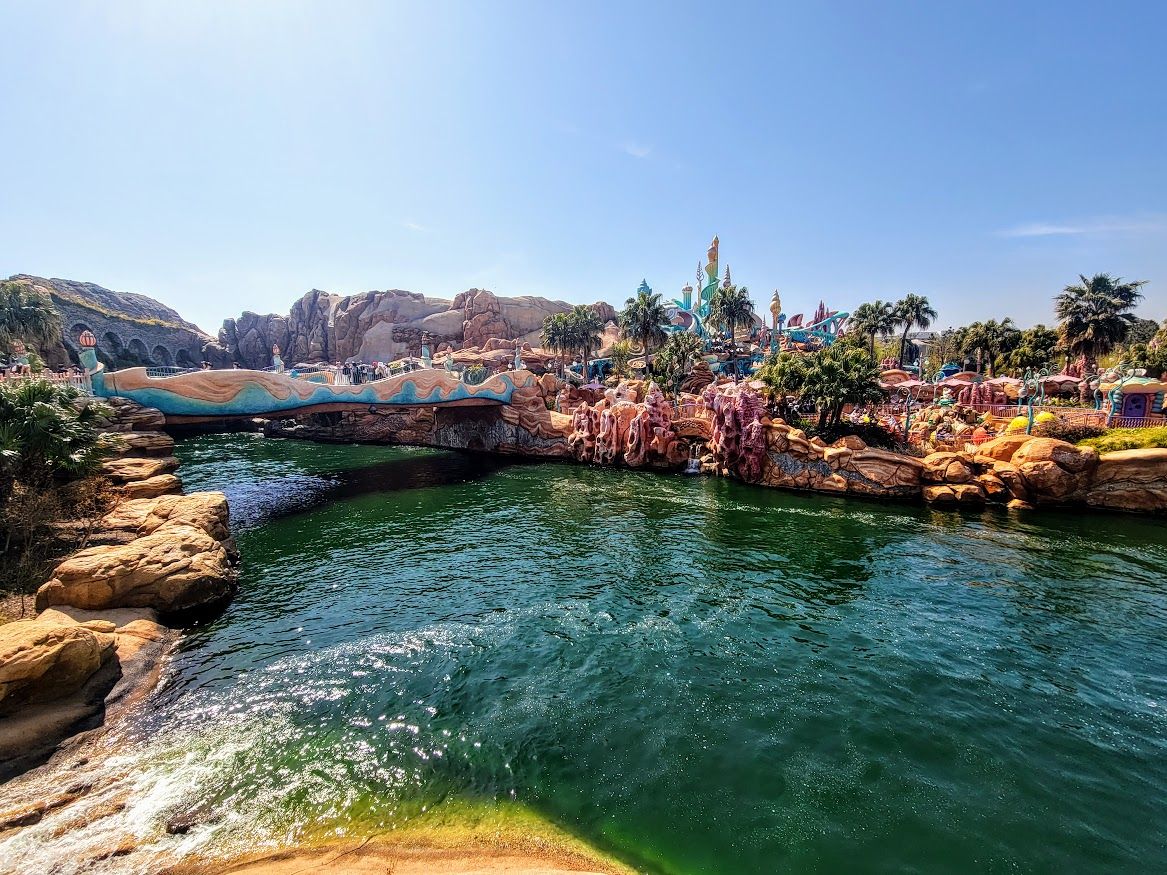 After enjoying my snack in front of lovely views, I wandered around the area a bit more and found Sindbad's Storybook Voyage.
Back to top
Sindbad's Storybook Voyage
Estimated wait: 5 minutes
Actual wait: ~3 minutes
This looked like a fun and quick, leisurely ride to do, so at 11:40 a.m. I headed into the queue and hopped into one of the indoor boats. It was indeed fun and leisurely! though I wouldn't call it quick. I felt like I was in a magical world passing by these wholesome scenes of Sindbad's story. The music and singing were pleasant and catchy, and didn't sound weird in Japanese as I was looking at these animated Middle Eastern character figures. It was a perhaps a bit too leisurely, though, as I found myself asleep a few times – but that is probably more to do with my weird and tough sleep schedule than with the ride. Overall this was one of my favorite rides of the day.
After that experience, I gave my partner a call, and we talked until 12:50 p.m. while I people-watched and marveled more at the water scenery. Then I had to quickly get to another area of the park and find my lunch restaurant...
Back to top
Lunch at Magellan's
Thankfully I made my reservation time of 1 p.m. right on the dot. The restaurant itself was beautiful and very spacious, which was its own lovely perk in an otherwise crowded theme park. The middle of the restaurant had a grand ceiling painting above an epic globe of the world. My table was one of the ones right next to the globe.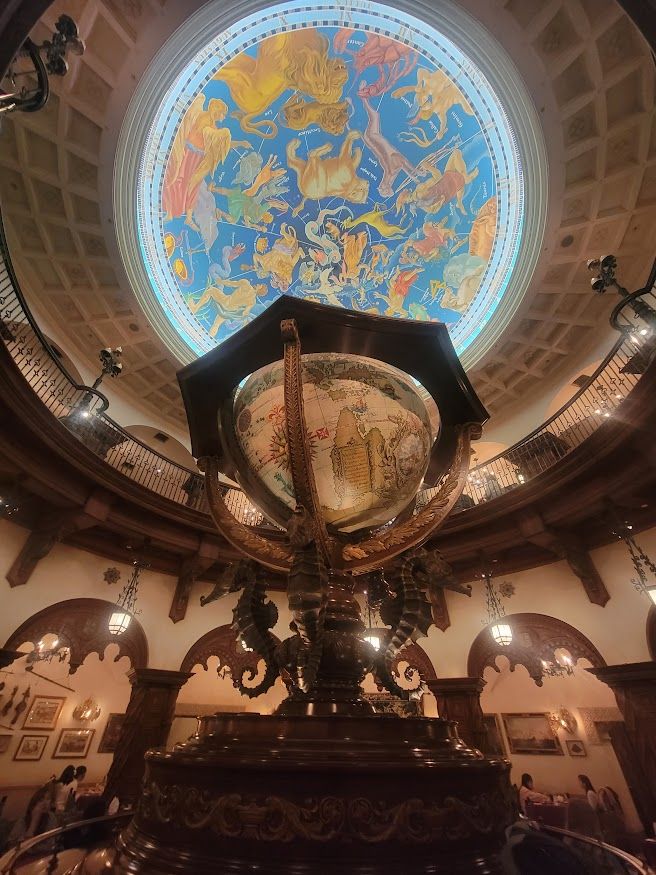 To my surprise, this restaurant had prix fixed menu selections. I picked the most expensive option, which was 10,000円. I had 4 fancy courses of meals, with a drink:
Small sweetfish escabeche, bluefin squid tartare, white asparagus poiret
Fried amberjack kadaif served with paprika and melon soup
Wagyu grilled hummus and tomato vinaigrette; Roasted lamb mint bread crumbs
bread
Crema Catalana cake with polvoron and citrus sorbet
Coffee or tea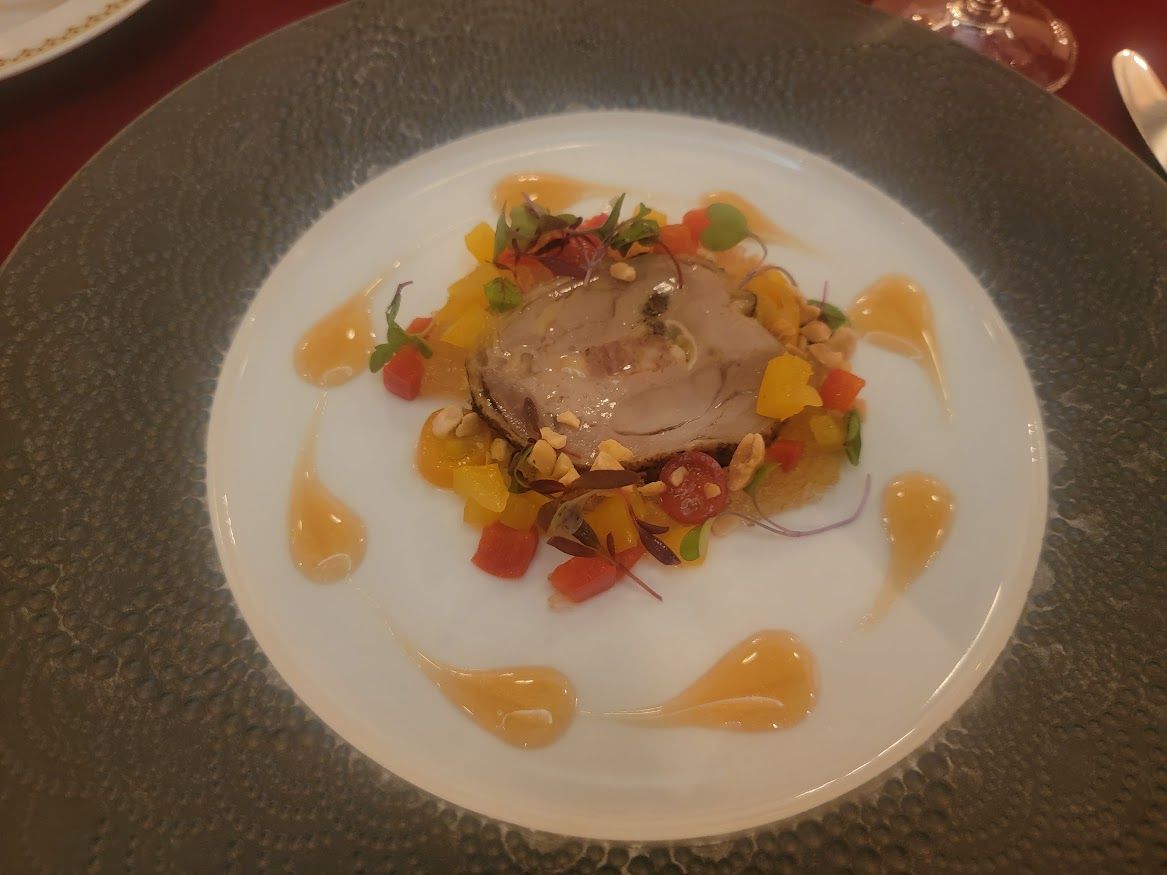 The bread and butter really good, the appetizer was a little too weird for me, the dessert was refreshing, and the rest were good but not my favorite. Probably not worth the money I spent compared to other food I have enjoyed in Japan for much cheaper, but then compared to other theme park food, it was still probably quite good.
I spent an hour and 15 minutes here, which was a good rest for my feet and rest of my body.
Back to top
Disney Transit Steamer Line (Mediterranean)
Estimated wait: 5 minutes
Actual wait: 5 minutes
After my fancy lunch, I hopped into the boat ride in the center of the park since the wait was so short, and I liked taking rides that showed me around a park's area. The views were great, along with the nice weather.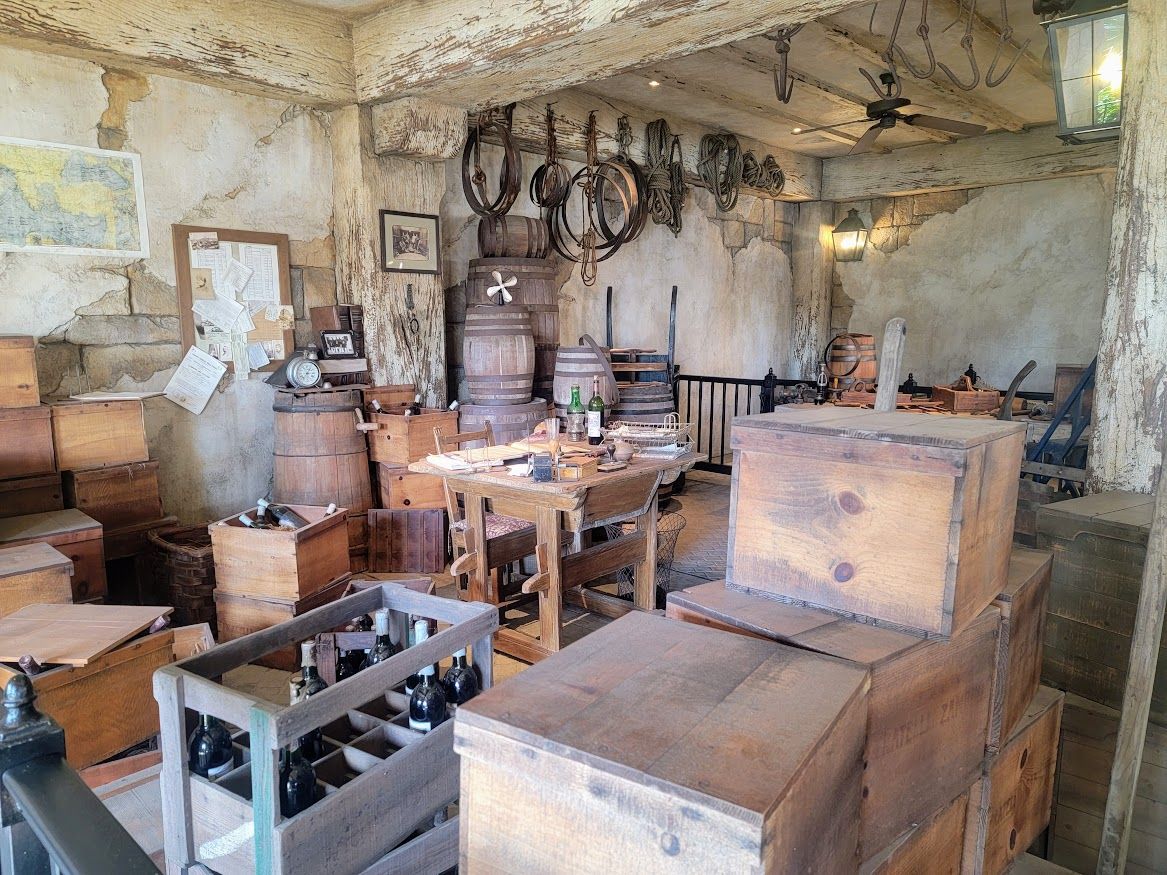 Back to top
Raging Spirits
Estimated wait (regular line): 70 minutes
Actual wait (single rider line): ~40 minutes
It was almost 3 p.m. I had about an hour before my next priority access ride, so I checked out the areas where the boat dropped me off: Port Discovery and Lost River Delta. I was hoping to catch the Indiana Jones Adventure ride, but the estimated wait of ~110 minutes was dreadful. I eventually found a roller coaster called Raging Spirits, which had a posted 70-minute wait but a separate single rider line that looked super short. I took my chances and joined that line... only to realize it would take a lot longer than I thought, since the roller coaster sat folks in pairs, and it was very rare that a group in the regular line didn't have an even number of people.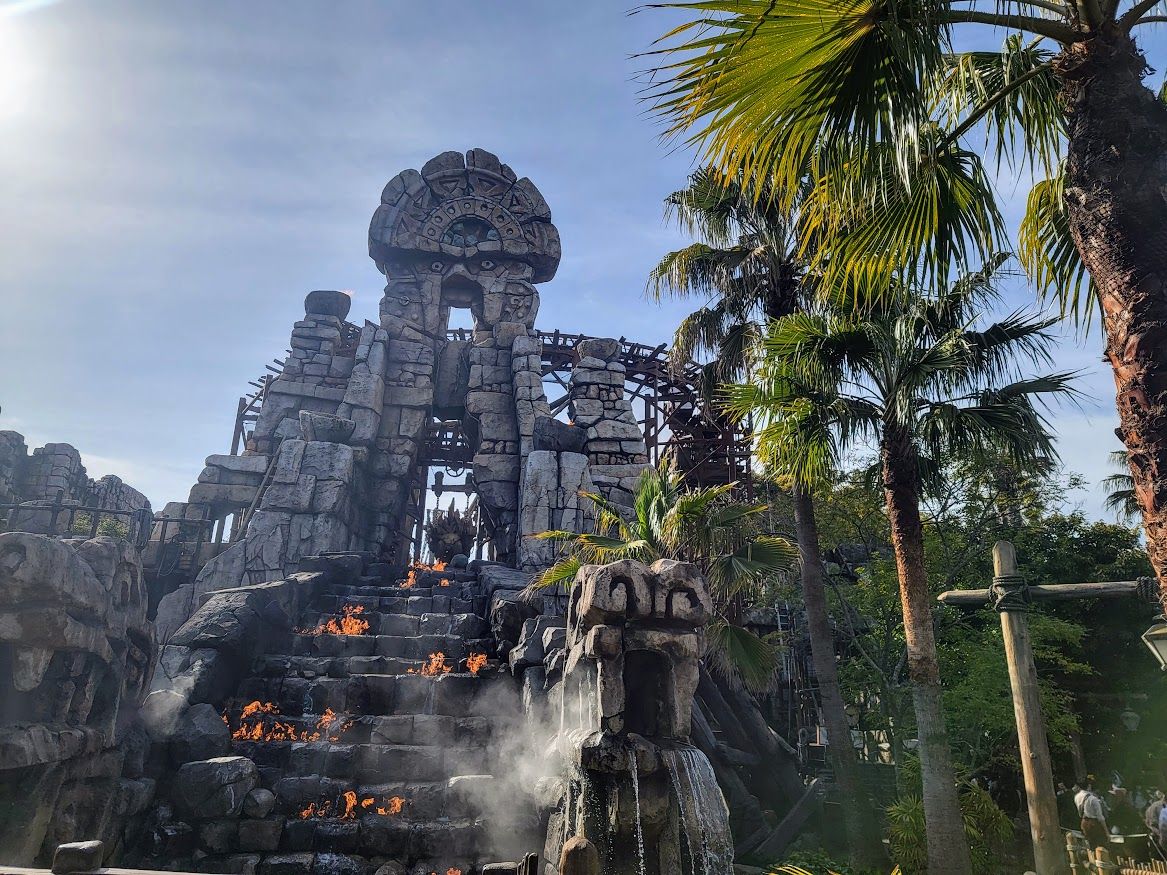 To top it off, I was pretty darn tired. Standing for any length of time was very difficult for me – I had been up a lot of the night, I got up early to get to the park, and I was creeping into the part of the day where I would normally start heading back home to get my second sleep. Nonetheless, I survived a 40-minute wait in the single rider line, taking my opportunity in this slightly more relaxed context where folks were sitting on the rails to do the same when I could. The roller coaster itself was probably not worth the wait, though it was still fun and had an impressive upside-down loop.
Back to top
Tower of Terror
Estimated wait: 95 min
With priority access: No wait
After Raging Spirits, I quickly walked to the other side of the park, American Waterfront, where the Tower of Terror stood. I breezed past the winding line to the next group of riders ready to led to a separate room. There, we watched some neat animations of characters preparing the story and lore of the ride. Then we were put into carefully numbered lines that corresponded to different seats, to ensure different parties got to sit together in the ride itself without much debate. I thought about Japanese orderliness, fondness for lines, social harmony, and non-confrontation... These sorts of line setups were also common in USJ.
The ride itself was neat and definitely made me scream!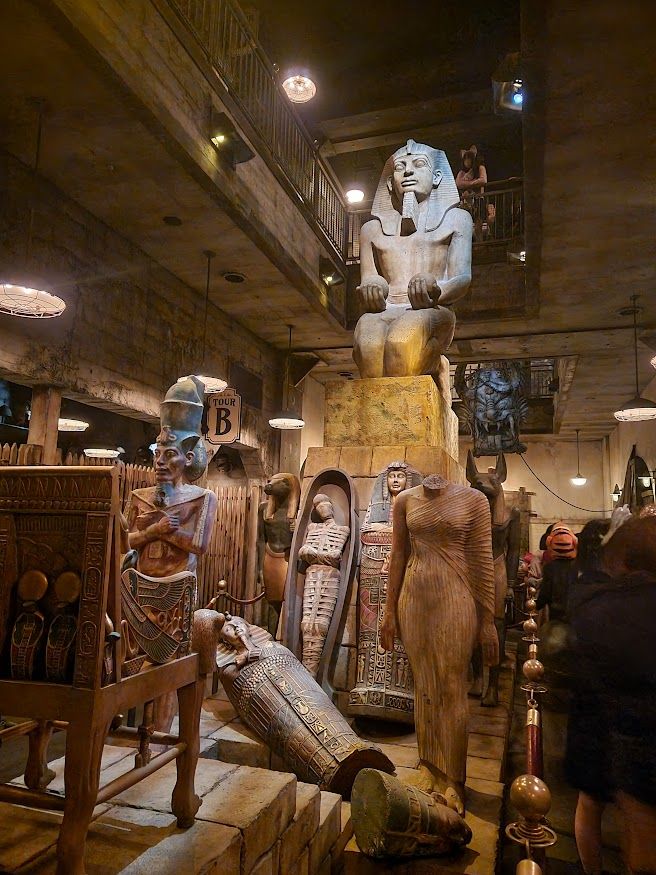 Back to top
An early evening nap
The next scheduled thing was not until about 3 hours from then, and I was so tired. At around 4:30 p.m. I headed back to my hotel room and took a much-needed nap. I was grateful to have landed such a conveniently-located hotel without breaking the bank.
Exiting the park, I received an invisible stamp on my hand. It seemed haphazardly placed and easy to wash off, so I was a bit worried about my ability to re-enter – would I accidentally wash it or rub it off? Thankfully, when I did have to re-enter, there was no issue.
Back to top
Believe! Sea of Dreams
Earlier in the day I acquired the best priority access section I could for this much-famed night lights show. My seat section was in the Mediterranean Harbor, close (but not right next) to the boat ride entrance. I got there about 30 minutes before the show started, though many people, especially those without priority access, had likely sat down for a decent seat at least an hour or two prior. My seat would've been great had the fence not been in the way, or had I been allowed to stand.
Alas, I still was blown away. Various Disney characters such as Mickey and Minnie Mouse, Ariel (The Little Mermaid), Moana (Moana), Miguel (Coco), Elsa (Frozen), Aladdin and Jasmine (Aladdin), and more appeared on various elaborately lit-up floats themed to their particular movie/world. Lights erupted from the sea like a volcano. Projections reached the nearby hotel buildings, decorating their walls. The overall Disneysea Believe! Sea of Dreams song was in English, while the individual character dialogues and songs were in Japanese.
It was truly magical... I cried when nostalgic songs started playing, especially Moana's. I felt like a child again, momentarily escaping from my stressful adult working life. It was then that I understood, as an adult, the appeal other adults have for Disney theme parks. Certainly I could understand before how kids would be into all this, but it really hits you differently as an adult.
Back to top
Soaring: Flying
Estimated wait: 120 min
With priority access: 10 min
Shortly after that incredible lights show, at 7:59 p.m. I walked over to the Soaring: Flying ride in the northeast end of the Mediterranean Harbor (if my memory serves me; it's apparently not on the map pictured I pasted above to verify). My priority access for it opened a half hour earlier, as the show was still happening. Still, I had plenty of time until my window closed.
While this ride, along with the other rides where I bought priority access, was recommended to me, I only thought it was OK. The intro before the ride was pretty cool – I think it used similar technology to what the Tower of Terror animations and the ones in the USJ Wizarding World of Harry Potter – Forbidden Journey queue line to simulate seemingly inaninimate portraits come to life. The Soaring: Flying ride itself was a simulation where people's seats were raised and swinging this way and that in front of a screen, depicting various beautiful places in the world and ending at Disneysea. That all sounds cool and not too different from some of the other VR rides at USJ (or the Disneysea Tower of Terror), but this Soaring: Flying ride just didn't make me feel immersed in the experience. I was acutely aware of the limits of the screen and could see the other seat pods swinging. Meh.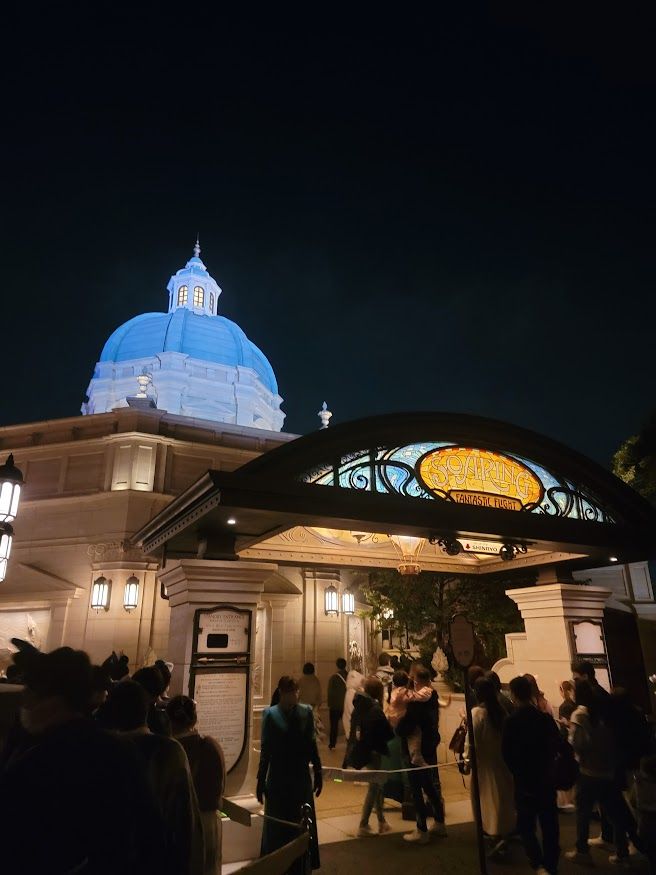 After the ride, I caved and bought myself a salt-and-pepper-flavored popcorn. The line wasn't too long, and the flavor didn't sound sickly sweet. It was OK and tided me over from not having a proper dinner; I wouldn't buy it again.
Back to top
Disneysea Electric Railway (American Waterfront)
It was a little past 8:30 p.m. The park was closing at 9... Could I squeeze in one more ride?!
I briskly walked from the west to the east side of the park, back in the American Waterfront, to catch the railway ride. It was a nice excuse to sit for a bit more and take a last, breezy tour of the park at night.
Unfortunately it landed me in the back of the park, at Port Discovery again. The line for the railway there was longer, and the staff had closed it from allowing anyone else to enter. Made sense – smart people were trying to catch a ride that landed them closer to the exit!
The fool that I am sucked it up and walked all the way back to the exit. On the way I stopped by a couple of shops, but they were all so crowded, and the souvenirs just didn't seem appealing to me. It was one of the only places I visited in Japan this trip where I didn't buy a single souvenir; just food.
I made it back to my hotel room shortly after 9 p.m...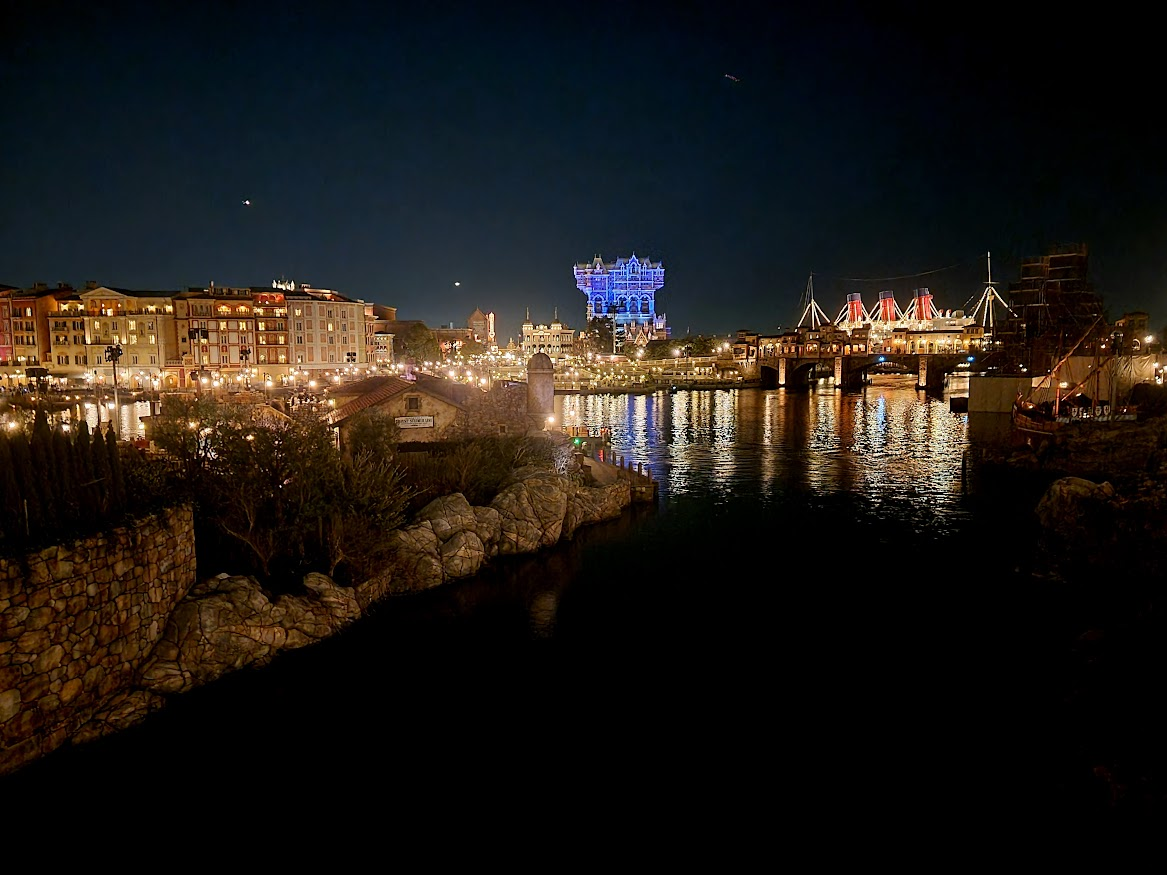 Back to top
Reflection
I had a great day at Disneyea. It was probably the best theme park I had ever been to in my life. Especially compared to USJ (Day 24), Disneysea's priority access system was affordable (a third of the price?) and flexible. There was quite a crowd here, but it felt so well-managed. I suspect the park itself is bigger than USJ, and also I felt it was less crammed with stuff for its large size. A lot of the park was just beautiful water or wide walkways. I lucked out on the weather as well – it was sunny and warm compared to the windier and gloomier Monday at USJ.
After the light show and last-hour rides, I thought about just how special Disneysea, its fellow customers, its staff, and its performers made me feel. I was there on a random Thursday, and they ran these performances and rides everyday. Yet in many moments, I felt like I was part of a once-in-a-blue-moon magical day.
Similar to USJ, the theming everywhere was incredible, and the atmosphere was largely quite wholesome. People on a ride or in a ride queue would often wave and smile at each other, wishing the people on the ride to have fun and signalling to those in queue to look forward to what's next. Staff were friendly and helpful. Everything was clean – well, except during lunch time at USJ!
Back to top
See the rest of my posts about Japan 2023.