Japan 2023: Day 19
The tired traveler heads to the small, chill "Venice of Japan".
I woke up a little before 8 a.m., wishing I could have slept longer, but figured I felt more rested than other days, at least. I headed out to Kyoto Station a little after 8:40 a.m. to catch the special rapid JR train to Shin-Osaka station, where I would then transfer to a shinkansen to Okayama and then take a local JR train to Kurashiki. All the JR train ride fares were included in my Sanyo-San'in pass I activated the day I headed to Kinosaki Onsen on Day 14.
Steps taken: 14,251
Money spent: 20,384円 | $150.84 USD

Hotel: 5,930円 | $43.91 USD
Table of Contents
To Kurashiki
At Kyoto station, I quickly grabbed a coffee can, creamed corn soup bottle, and sandwich pack from 7-11 before catching the special rapid train to Shin-Osaka.
Unlike the more famous JR Japan-wide pass, the Sanyo-San'in regional pass (and probably other similar ones) let me take faster shinkansen such as the Nozomi within my given pass region. It still was just a regular seat as opposed to a premium green seat, but I was quite comfortable nonetheless.
Back to top
Learning how to use my commuter pass for non-reserved seat trains
When getting my tickets the other day, I couldn't find a way to reserve a seat for the special rapid train from Kyoto station to Shin-Osaka station, so I used my Suica card to enter through the turnstile. I later figured out that I shouldn't have done that – I should have presented my Sanyo-San'in pass to the ticket official because that train fare was included with the pass. At Shin-Osaka, I asked a ticket official to cancel my Suica transaction, and sure enough, when I checked my Suikakeibo app, I saw my charge was 0 yen!
Bonus: I originally was going to default to English, but I mustered my courage and communicated this concern of mine in Japanese, and it seemed to go the way I wanted. Yay!
I arrived at Okayama station in less than an hour and then navigated my way to the platform for the local Limited Express train (so many train labels!!!) to Kurashiki station. I learned that Okayama is known as the "Sunshine City". 🙂
Back to top
At Kurashiki
I arrived at Kurashiki station a bit after 11 a.m. I had to use my first Western toilet without a bidet here (!), but after surviving that, it was a short 15-minute walk to the main tourist site, the Kurashiki Bikan Historical Quarter. It was pretty small – you could walk the main canal in just a few minutes if you didn't get distracted by the various lined shops and restaurants – but I think it was just the kind of low-key sightseeing location I needed. Beyond the main canal path are other winding roads of small businesses and museums that were fun to peruse.
I found a place to sit by the canal and gave my partner a call while watching the really large (to an American used to seeing small ones) koi lazily swim along and people walking by. The weather graced us with clear blue skies and warmer weather – in the 60s Fahrenheit! It was lovely to see so many women here in kimono, especially after my photoshoot two days ago on Day 16.
Back to top
Lunch on the rooftop with veggies!
After the chat, I found a place for lunch called 倉敷まちなみ食堂アカネイロ that was serving a very affordable and tasty chicken, miso, salad, and pickles set with citrus cake and drink (I chose orange juice) dessert. I ate on their rooftop terrace, where the sun further warmed me up.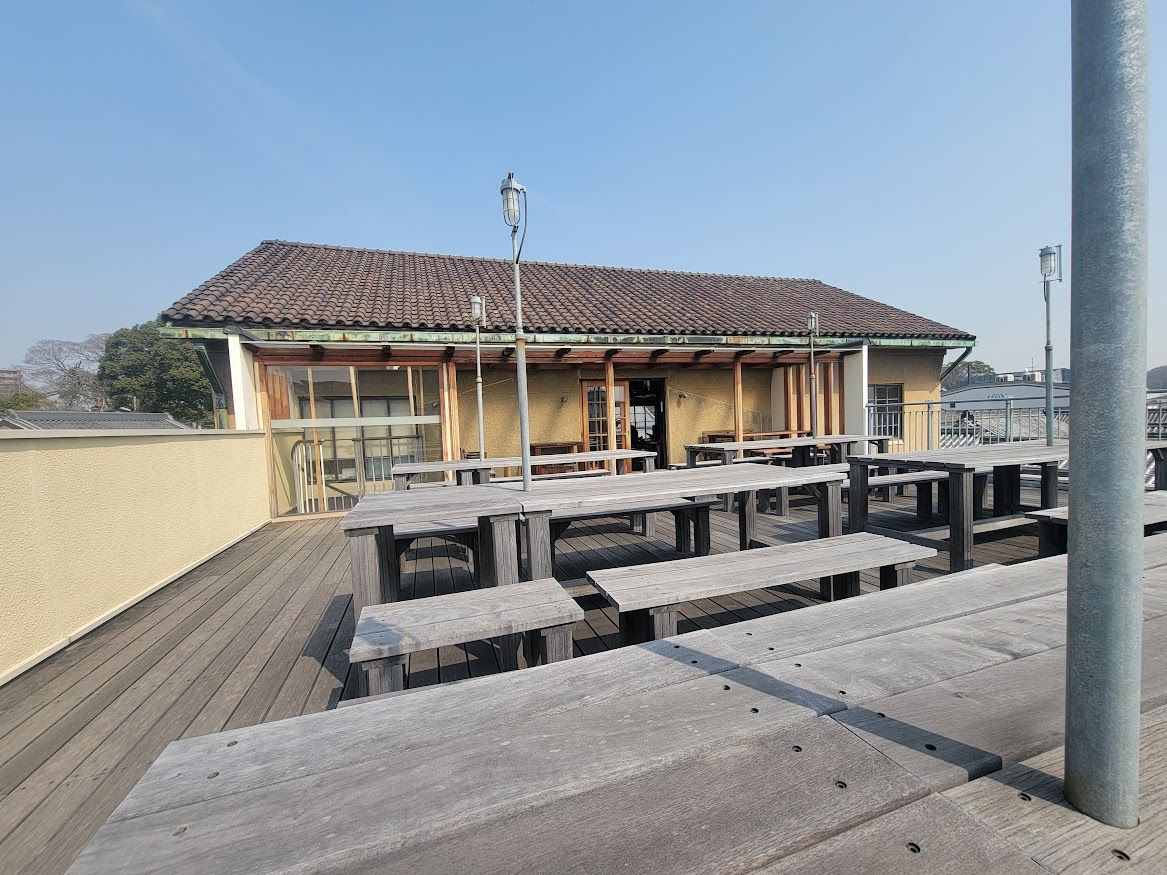 Back to top
Exploring, then crashing
With a full stomach, I began exploring the area in earnest. What I was most interested in was this small garden, Shinkeien, though on the way I got sidetracked into checking out… Eventually, I did get to the garden, which was so pleasantly quiet except for the lovely chirping of little birds. In front of the garden was a simple outdoor art sculpture exhibit sitting on a golden field.
Unfortunately, I grew incredibly tired as early as 1:20 p.m.! The desire to sleep longer in the morning must've caught up to me, even though I hadn't physically moved around that much today (but always mentally working, navigating unfamiliar lands…).
I barely hung in there until 3 p.m. when I could check into my hotel and take another nap. I bought an oyster soy sauce-flavored ice cream to give me a temporary sugar boost, though the taste was a little too strange for me.
I chose a decent business hotel with a public bath. I checked in and immediately crashed on my bed for about 2 hours, to wake up at 5 p.m. I wanted to catch a few shops that would still be open until 6 p.m.; unfortunately most of the other museums and shops closed at 5 p.m. My body wanted more sleep, but I fought against it; I would probably pay for that again later…
Back to top
Kurashiki at night
I found a shop still open selling lots of cute and beautiful towels – I've become addicted to them since they're lightweight and practical gifts (for myself or others). After buying a few of those and checking out some of the other artsy and denim shops, I stumbled across the 1,700 year-old Achi Shrine. The grounds, despite the main building doors being closed, were nice to explore without the crowds. Among other things, it has a stage for Non plays and Achi wisteria said to be 300-500 years old.
As I descended the many steps from the shrine, the sun was fading, and the picturesque town's lanterns began providing soft, romantic illumination. Some restaurants were beginning to open for dinner, though many of them, unlike other restaurants I've seen in other areas, didn't have their menus displayed outside. It was also a bit unclear whether some of them were actually open yet – I learned in the past few weeks not to fully trust Google's business hour listings for Japanese businesses. Some restaurants clearly sounded like they were open from the loud banter echoing from inside their walls, but I worried whether these businesses were purposely obfuscating themselves to be closed to foreigners.
I decided to continue past this street of restaurants and head to an udon shop closer to my hotel, outside the historical area. (Okayama is apparently known for a kind of udon called bukkake that I was curious to try.) But on the way, naturally, I got distracted again by some other beautiful sites. More lanterns on the ground and decorating the street skies were lit, and there was a particularly beautiful courtyard that had these parasols and ivy-colored walls lit up.
Back to top
Kaiseki dinner
In this courtyard was a hotel restaurant called Tsuta whose windows and front entrance clearly showed customers eating and open tables. I was hungry and drawn to its inviting appearance compared to the more obscure restaurants from before. Checking it had good reviews on Google, I went inside and ordered a kaiseki composed of sashimi, wagyu beef, grilled and marinated fish, and vegetables prepared in various ways. Along with a ゆず茶ソーダ・yuzuchasoda and hot coffee, the meal was a feast that set me back 7,070 yen! But at the register the cashier thought I was a hotel guest, so I got 10% off, taking the total down to 6,470 yen or $47.15 USD. This meal would most definitely have been at least $150 in the U.S…
While I had a great meal, naturally the kaiseki took longer than I planned for my dinner to be, and I got back to my hotel at around 8:15 p.m. I didn't get to take a short nap before my computer stuff. 😞 At least on the way back I managed to get a few photos of the canal lit up at night, too.
Pictures pending.
Back to top
See the rest of my posts about Japan 2023.