Japan 2023: Day 1
Solo travel from Washington, DC to Tokyo at Haneda AIrport
Table of Contents
Steps taken: 4,735
At the DC airport
My partner dropped me off at one of the airports in the Washington, DC area in the early afternoon, about 2 hours 45 minutes until my flight.  Thankfully this was just before rush hour, so we experienced only a 4-minute delay on the highway. The ANA check-in line was empty -- it took less than 3 minutes to check one of my bags and receive a paper copy of my boarding pass. I had checked in online already, but perhaps this comes with checking a bag anyway (it's been years since I've done that!) and anyway it felt reassuring to go to the check-in desk for an international flight, given that I had to present my passport and -- in the age of COVID -- my vaccination card.
Aside: I've carried the Chase Sapphire Reserve card with me for several years now. Expert credit card points churners would scoff at my inefficiency in not cancelling and renewing after X years/months in combination with other CS cards, to get the most credit card signup points possible, but at this point in my life I'm not interested in going through the hassle. I've enjoyed its straightforward benefits of a $300 annual travel credit (for any travel-related expenses), free Lyft Pink membership, free Doordash Premium, extra points on travel and dining, some amount of travel insurance, (etc.), and most of all, 0% foreign transaction fee. On top of all that, I get TSA Precheck, Global Entry, and Priority Pass. Priority Pass has, over the years, become less "cool" and exclusive, as many lounges in its umbrella have become quite crowded. Furthermore, the lounges seem to only be in non-U.S.-domestic terminals. There are discounts at other random businesses in domestic terminals, of which I've enjoyed a few, and  the lounges are still cool for complimentary food, alcohol, and other amenities. The annual fee has gone up over the years, so I have been considering cancelling it. But for now, it'll still be one of my primary credit cards for this trip.
For my first international flight since the start of COVID, I was curious to check out the lounges again, but didn't get my hopes up. Passing security via TSA Precheck, I saw there were three PP lounges near my gate: Turkish Airlines, Lufthansa, and British Airways. I think I recalled being at a British Airways lounge before in another airport and was severely disappointed -- there was barely any hot or cold food; there was literally cup ramen available. Felt like a college dorm! (Even though I actually like cup ramen, and had one partly out of desperation and partly out of nostalgia). I avoided that one. Lufthansa was apparently not available for PP holders outside of most business hours for crowd control, so too bad. Turkish Airlines I remember fondly was my first PP lounge I visited back when I got the card in 2016 or so, with a much lower budget being used to brownbagging my food everywhere. Turkish was good, so I went for that. The lounge was, unsurprisingly, rather crowded,  such that I didn't even have a seat to eat my food for a few awkward minutes. Thankfully one seat freed up, so I took it and  scarfed down my food, which was genuinely pretty tasty, as I remembered before. Since it was so crowded, I didn't see the point in relaxing there compared to the much more spacious flight gates, so I grabbed a ginger ale can and some crackers for a later snack and left. I remember what my mother said: always have a snack with you. Especially for me, as I have had a history of fainting due to not eating enough when on the move...
After my little lounge adventure, I filled up my water bottle and bought some sanitizing wipes and a Washington, DC souvenir for my friends in Japan. In addition to being a nice gesture, I selfishly hope it encourages them to visit me sometime!. :) Then, as I do before all flights, I used the bathroom and brushed my teeth to feel fresher. At this point, I didn't have much time before boarding. I took a seat at the gate, quickly downloaded some songs to my phone, registered for more comprehensive travel insurance (on top of the limited one that comes with CSR), and backed up the QR codes for my immigration and declaration forms from Visit Japan Web.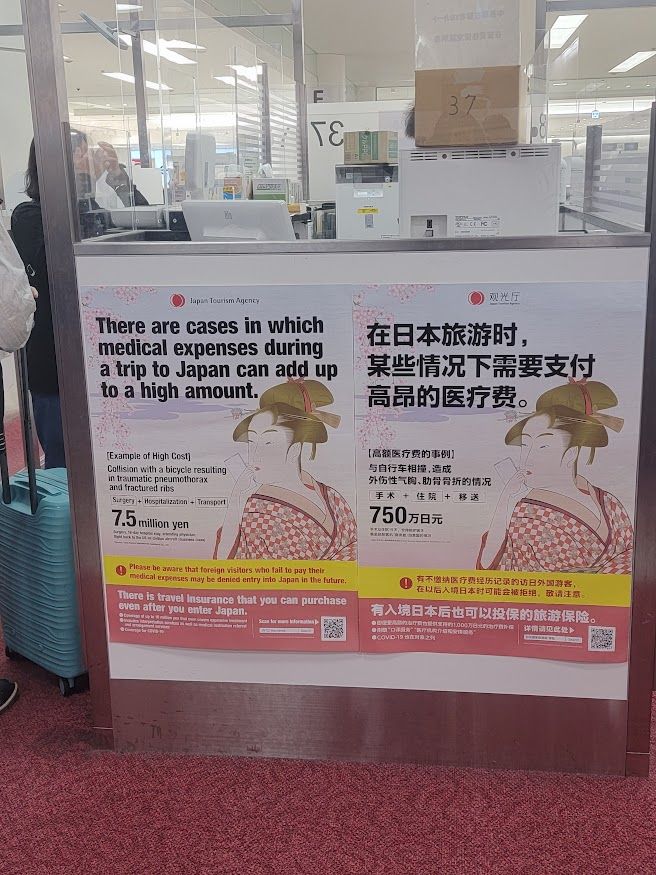 While I was taking advantage of my fleeting Internet access, it was kinda exhilarating to hear native Japanese being spoken in a real world setting for the first time on my trip -- both over the intercom for Japanese passengers and from my fellow Japanese passengers talking to each other. I could understand some parts!
Back to top
The flight from DC to Tokyo
Boarding was its usual mini chaos. The one unusual thing for me was everyone had to have their picture taken in front of a security camera before boarding the bridge to the plane. (I later figured out this was to take our temperature for COVID-19 symptoms.) What may be unsuual for others is that, ANA (and perhaps other Japanese airlines) is still strict as of February 2023 about passengers wearing masks when not eating or drinking. (Indeed, the flight crew had some clever ways to very kindly remind passengers when they would forget after meals were served and finished.) It's this reason that I feel courageous enough to visit Japan of all places while COVID is still kicking.
On the plane, I lucked out! I had an middle-row aisle seat in Economy, with no one in the middle seat itself. My  same-row aisle partner was a decent person -- neither of us bothered each other, and we were considerate with the extra space we took up in the middle seat. There were a few "amusing" passengers near me, but everyone was overall quiet and considerate. No crying babies! (Sorry, new parents...)  As a 5 ft 5 in woman of average (American) build, I had plenty of space and appreciated the amenities: a foot rest, a tray with a cup hole which was much sturdier in holding cups compared to other trays with only shallow cup holder dents, a decent-sized entertainment screen (though I only used it to look at flight statuses), a plug, blanket, pillow, and headset. There was also a USB-A port, but I couldn't get it to work for my phone or portable charger. I was a little bummed earlier that I had bidded to upgrade to Premium Economy and didn't win, but with my Economy setup, I honestly was quite satisfied and glad to have saved a few hundred dollars.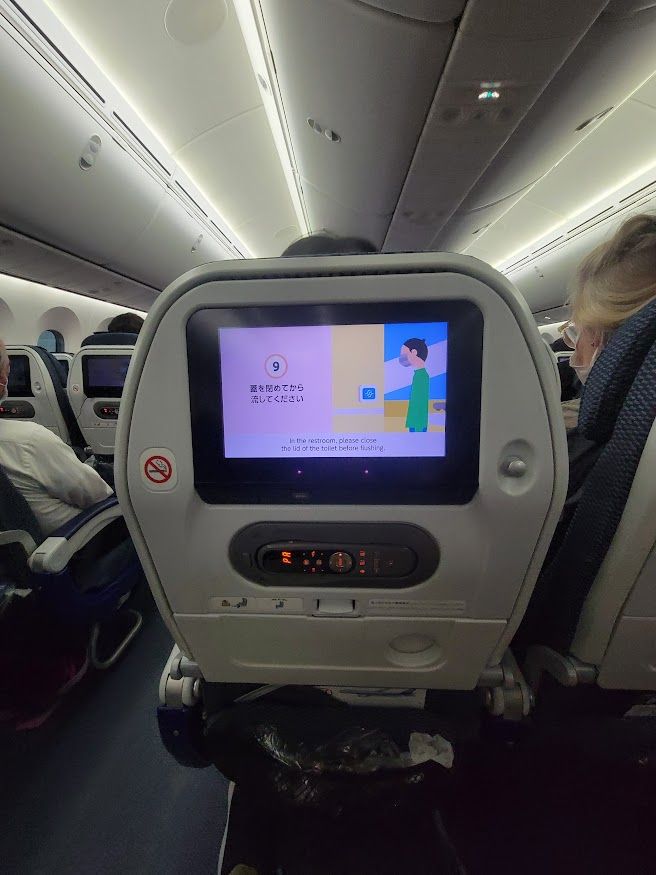 An hour into the flight, we received a warm towel with our first snack -- rice crackers and our choice of drink (including alcohol, if you wished). Two hours after that was dinner, which was a choice of shrimp tempura or grilled chicken. I went with the tempura and a Kirin Ichiban beer, which was a barley malt. So cool! The tempura itself, along with a small helping of edamame and lettuce salad, were okay, but I especially enjoyed the soba noodles, cold pasta, seaweed salad, and smoked salmon. As I was finishing up, the flight attendants handed out Haagen Daz cups of vanilla ice cream for dessert. How indulgent. I was pretty full.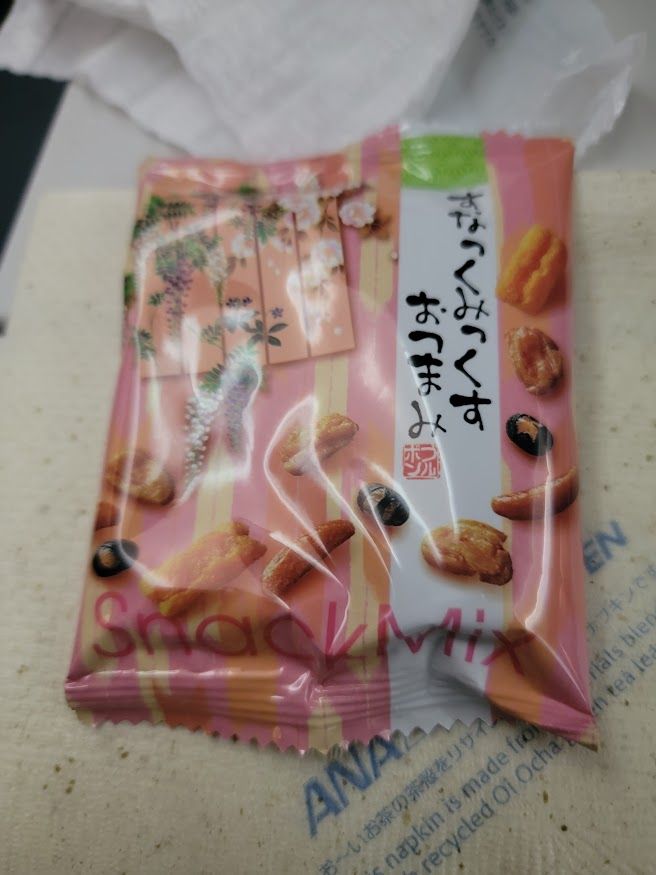 About an hour and a  half after dinner wrapped up, the plane dimmed the lights; it was about 9:45 p.m. in our origin (Eastern) time. This was a good time for me to use the bathroom, as it was outside the beginning flight rush and just-after-snacks-or-meal rush. To my pleasant surprise, I discovered a bidet system! Holy cow, I didn't think they could fit a bidet system in a plane bathroom -- I was excited for them in Japan, but didn't think I'd see them before landing. My American expectations are clearly too low. After happily using it, I washed my face and brushed my teeth again. Felt so much better.. The flight attendants were going up and down the aisles, offering juice and water to me and the other few passengers still awake to keep us hydrated and happy. :)
But eventually, sleep got to me, too, or some form of it. I may have snagged 1-3 hours of broken sleep, at which point I was handed a small half-sandwich with mayonnaise and egg. Another hour or two after that was breakfast, which was a choice between vegetable lasagna with muffin and ham over cold pasta, and pulled pork with rice (and I think a dinner roll, something else); I chose the former, which was not bad.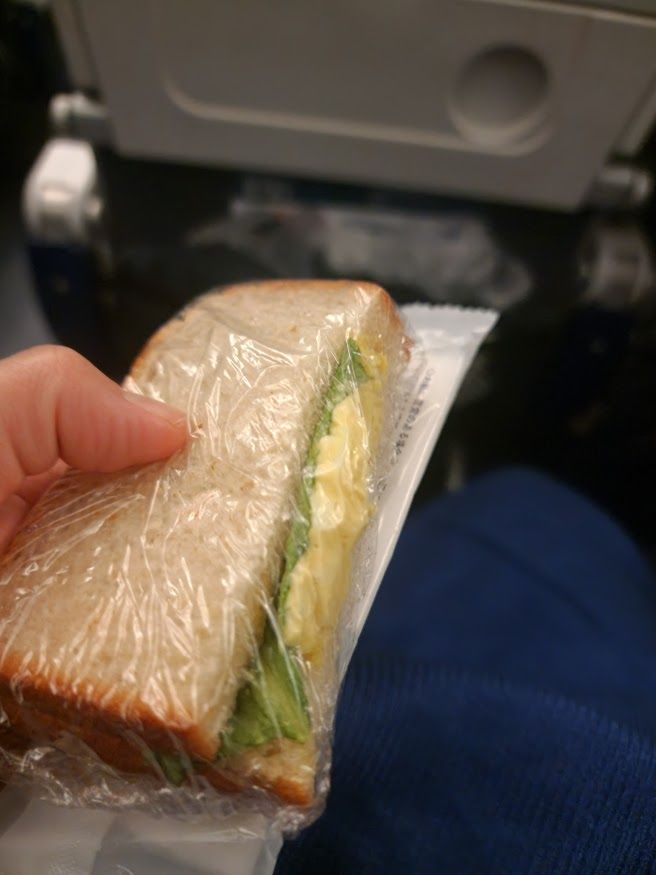 Something I quickly realized during the flight was that, with my mask on, the Japanese flight attendants would speak to me in Japanese, while they would speak to other passengers (who weren't obviously Japanese) in English. Whoa! This was my first chance to start practicing in the real world, outside of my coaching lessons. And I did well! It wasn't my intent to pass as a Japanese person, but here we are. I wonder if it'll be a good or a bad thing for me -- will I not have a free gaijin pass? Maybe I won't have it at first, until I start blundering, and then my cover will blow and I'll receive it... or I'll just be judged as an incompetent native who should know better. Haha.
Back to top
How I passed the time
What did I do on a 14-hour flight? I took a nap, wrote up this blog post, went over my Japanese vocabulary and kanji flash cards, listened to an audiobook and some music, read some stuff, and watched some stuff. For the audiobook, I started listening to Alex Pentland's Social Physics: How Good Ideas Spread--The Lessons Learned from a New Science, recommended by my boss's boss. For reading, I got through part of the second ediiton of Functional Programming in Scala. For videos, I watched Never-Ending Man: Hayao Miyazaki in anticipation for my trip to the Ghibli Museum with my friend in March; the first episode of The Makanai: Cooking for the Maiko House as it's based in Kyoto and my same friend liked it; and Little Miss Sumo in anticipation of the Osaka sumo tournament I'll see in March.
Back to top
Landing in Haneda
Per Japanese fashion, we arrived right on time at 9:45 p.m. They first asked for only passengers on connecting international flights to deplane first, and to my pleasant surprise, many passengers complied and stayed in their seats. The American in me suspected some passengers who got up had Japan as their final destination cheat, but I can't confirm.  After some time, the rest of us were allowed to leave, and no one in my vicinity was rude or pushing people out of the way. It was pleasant.
There was a long, winding walk to immigration and customs. Greeting us were many airport employees urging us to have our Visit Japan Web  vaccination verification and immigration + customs QR codes ready to ensure speedy intake. I felt proud at first, thinking how I was smart to have my QR codes ready. However, I quickly realized I forgot to take a screenshot (since there wasn't a QR code for this) of the vaccination verification! I panicked and hoped the free airport wifi worked for me to grab this -- these free wifi spots are often hit-or-miss in quality. Thankfully, the Haneda wifi was quick and reliable on my phone.  I was able to screenshot my vaccination verification, which allowed me to bypass COVID-19 testing and go straight to immigration and customs.
Immigration had a modestly-long line for foreign visitors, the majority whom seemed to be Japanese speakers, Chinese speakers, folks with Malaysian passports, and other fellow Americans. (So, this captured at least the cohort of visitors who happened to be arriving at around the same time as me.) But, it kept moving, and by the time I presented by immigration QR code to the official, answered a few questions, and passed through, I was able to go straight to my baggage claim and immediately -- truly immediately, it was beautiful the timing -- see my checked bag roll by on the conveyor belt. I registered my customs QR code on a machine, then had a final check at the end with a customs official.
The entire process took about 30 minutes from deplaning to exiting security. Flawless (mostly)!
Back to top
My first night in Japan, at the airport
I next had to navigate a mostly-Japanese-with-some-English airport. First, I got some cash (yen) from an ATM. Then, I had to find the airport hotel I booked for the night, given I was landing late after a long flight and didn't know how long security would take. I found the hotel and checked in , noticing another camera that wanted me to stare in its face -- it was checking my temperature, which must've been the same reasoning behind the camera before the flight from DC.  Thankfully, my temperature seemed to have stayed in a healthy range, and I was able to get to my room.
The room was so small compared to hotels in the U.S., but it was just the right size for me. As what seems to be standard in Japanese accommodations, there was a yukata with complimentary slippers, water bottles (no hidden fee if you open it! Take that, America!), razor, toothbrush with toothpaste, tea, and a few other toiletries also common in the U.S. I was delighted to see another bidet, as well as the shower with separate, nice お風呂 (bath). The bed was comfortable, and the pillow had the more traditional bead-like contents I remembered using when I was a student staying at a temple and sleeping on tatami with a futon. It was different from what I was used to, but comfortable.
After settling into the room and updating my family on my whereabouts, I decided to go out and find a snack. Ahead of time I had checked the airport website regarding restaurants open late or 24 hours. There were a few listed with the caveat being that many had shorter hours due to COVID-19. Unfortunately, when I was there to check myself at around 11:30 p.m., all of them had already closed, and the only vending machines I could find just had drinks... and I couldn't even use them because I withdrew bills from the ATM that were too large in value... But it was okay: ANA really did give me enough food to tide me over until early breakfast...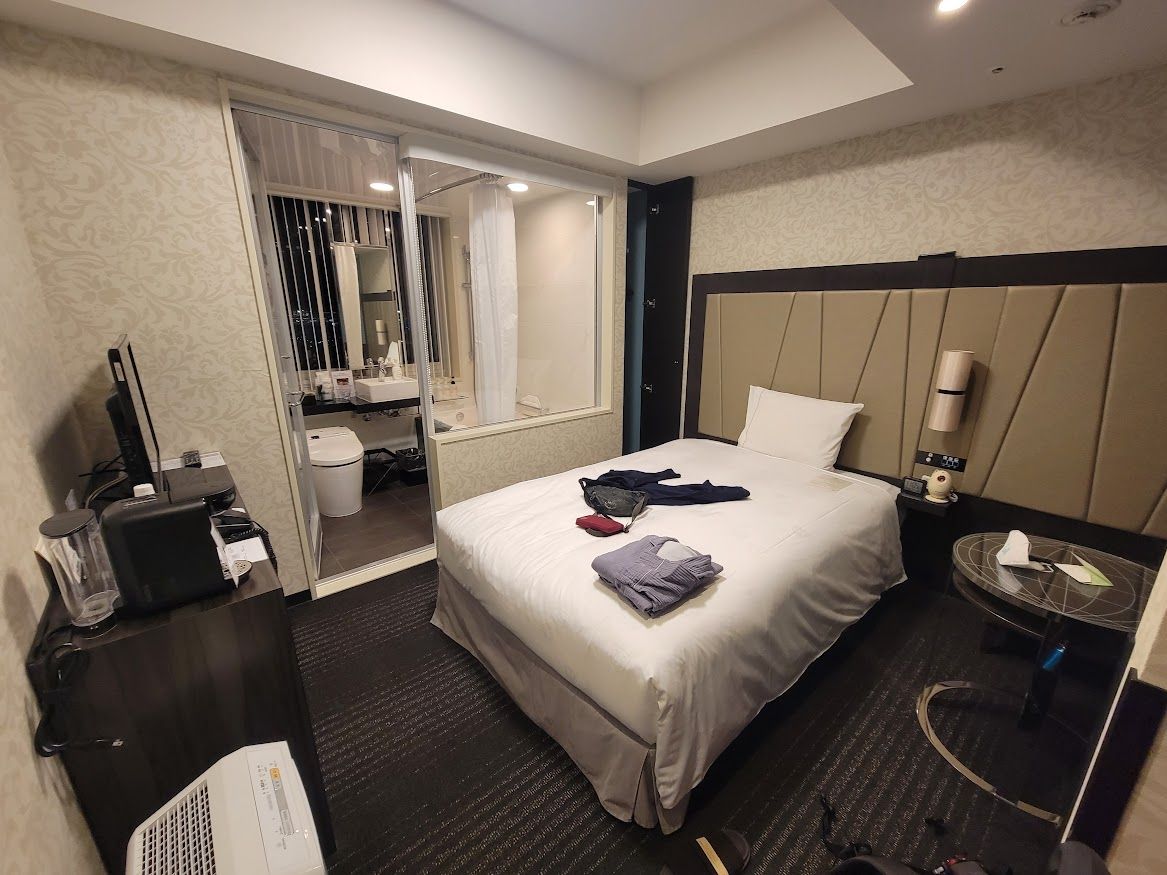 Back to top
See the rest of my posts about Japan 2023.