Chicken salad
A vegetable-heavy version with tarragon and light on mayo.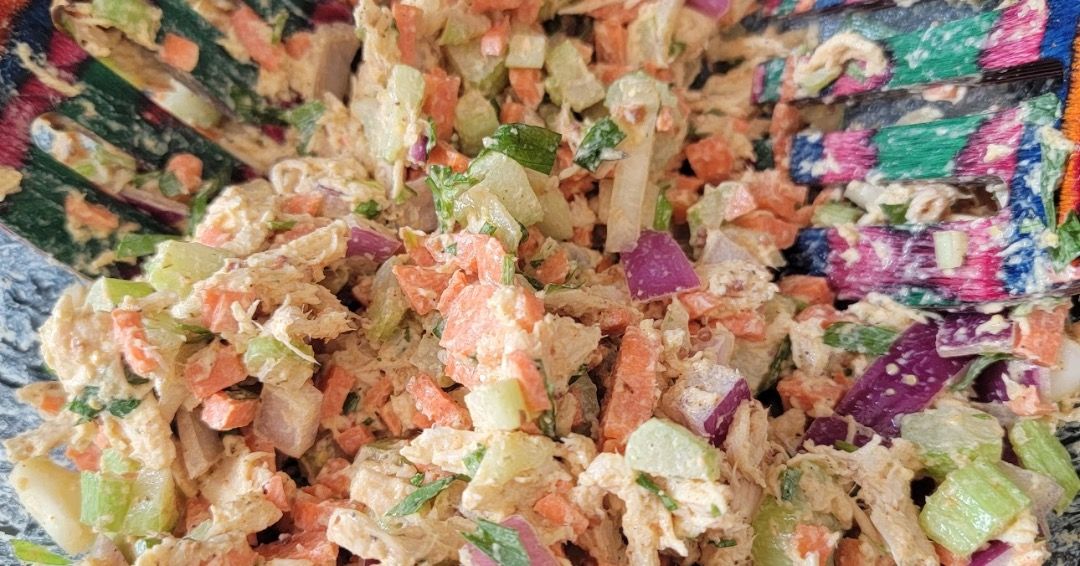 I made this chicken salad as part of several dishes to use up a $4.99 Costco rotisserie chicken. It was tasty!
I have noticed many [meat protein] salads are very heavy on the protein and often few to no vegetables. This is not my style. I like having a ratio of no more than 50% meat, the rest being vegetables or other ingredients like nuts.
Below is my kind of chicken salad. Besides the emphasis on vegetables, here are some other differences. I don't like a heavy mayonnaise base, so half of the fat and moisture comes from olive oil. Also, tarragon – it adds a very nice mint-sage-like taste. Tarragon goes very well with chicken recipes.
Ingredients
8-10 oz shredded, cooked white chicken
2 stalks celery, chopped
2 carrots, chopped
1/4 lemon, juiced
1/2 red onion, diced
Mayonnaise, 3 tbs
Olive oil, 3-4 tbs
Mustard, 1 tbs
5 stalks fresh tarragon, chopped
Hungarian sweet paprika, to taste
Garlic powder, to taste
Penzeys Justice spice mix, to taste
Salt & pepper, to taste
Directions
Serves 4-6
Mix all ingredients in a bowl.
Let chill for 15-20 min in the fridge.
Serve with crackers, in a sandwich, etc.